June 2019
OMG!  Where did April and May go?  Seems like just last week I sent the March 2019 newsletter. 
   Let's see where did April and May go?   In April, Nic and I went to our first WE show, the East Coast Classic Working Equitation Show at Harriman.  On the first day the judge recommended that I drop Nic down one level.  He said Nic was tense.  Well, considering the last time he was in that arena it was to run barrels, he was actually pretty calm.  But, after the Speed phase of the competition the judge was almost ready to join Nic's fan club.
  Working equitation has 3 phases, the classical dressage test, the ease of handling over obstacles and then speed over obstacles.  Just like dressage there are many different levels so the new riders and ex barrel racers can come and compete on the same day as the experienced riders.  And the best part, working equitation is open to any discipline and any breed.  If you ride dressage, you come in your dressage attire and saddle.  If you ride western, you ride western.  FMI  go to https://www.confederationwe.us/
  Kayleigh Stewart, my working student went home in late April.  I didn't realize how much I missed teaching.  I so much enjoyed seeing her riding and confidence improve.  Our goal was 5% each day.  Some days she jumped into 20-30%  it was great.  But all good things come to an end, she is back in PA practicing to become an Authorized Specialized Saddles Rep. and working full time at her day job. 
  Speaking of Authorized Specialized Saddles Rep, congratulations Ashley Francese.  She completed her training and we made the trip to Texas for her final testing in May.  Ashley's first love is the retired race horse project.  Fitting her retired race horses with saddles that can be adjusted as the horse's develop is what led her to Specialized.  The horses and Specialized Saddles are lucky to have her.  Ashley is in Carlisle PA.  Her number is 717-262-8698
 Also in May, I spent a few days at Bearfoot Ranch in Canton, Georgia.  Bearfoot Ranch is a therapeutic riding program.  The horses they use for riding lessons are truly saints.  During our Saddle Fit Class we were able to help a few of the horses find saddles that were comfortable for them.  There were also some miraculous improvements in a few of the horses we did fittings with.  And I got to visit with Linda Filippone, one of our dearest lifelong friends.  It was a great weekend.
  For me the definition of classical training has always been "building the horse up mentally and physically so he can do what we want and last a long time".  Since I am responsible for so many horse's saddle fit comfort, I want to know the science behind it all so in May, I attended a Gerd Heuschmann Clinic in Colorado.  I have seen his presentation before but I felt it is worth repeating.   I was super excited that some of my favorite students also took the time to learn more about classical training and the biomechanics of the horse.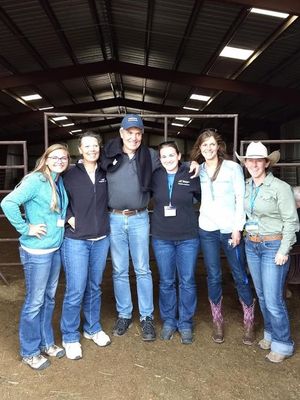 And I visited with the family in PA over Mother's Day.  Needless to say, there wasn't much time for a newsletter.  But I have been working on something, a question that Kayleigh asked me when she first arrived.   
How do I become a better balanced rider?
  Kayleigh wanted to be a better balanced rider so that she could help her green horse.  Some riders want to be better balanced in the saddle so that they can feel more confident and secure.  Some riders want to be better balanced because they know that if you are balanced over the horse's center it is easier for the horse to carry you.  Whichever category you fall in, these warm up stretching exercises will help.
1.  Reach down and touch your toes.  We have a built in self preservation mechanism that says protect the head.  So, when you are sitting in the saddle and you bend over, looking towards your knee and touching your toes the other side of your body "says she's going to fall on her head, hold on".  Take your left hand and touch your left toes 8 times, then take your right hand to your right toes 8 times.  Don't hang around down there, just go down as far as you can and right back up.  Remember to keep your heels down.  
  When it is easy do it 8 times on each side while your horse is walking.  If your horse stops or walks off the track, start again, 8 more times.  If there is no horn on your saddle you can take the exercise one step further and take your right hand to your left toe and left hand to right toe. 
2.  Stand up in your stirrups.   With a little bend in your knees and ankles stand up for 5-10 seconds and sit down.  Yes, of course you can , you stand on your feet every day.  Your stirrup needs to be under the ball of your foot not the arch or the toes.  You will have to have your feet under you and your stirrups at a good length.  A good length means you can still have bend in your knees and ankles with your foot in the stirrup.  
  The type of riding you do determines how much bend you need but to be a balanced rider you need to have at least a little bend in your knees and ankles.  The joints are the shock absorbers whether you are riding or walking.  The concussion that is not absorbed in your joints will be absorbed in your lower back. 
  You may need to pull your leg back under you to make it easier to stand up.  Put the palm of your hand on the horn or the front of your saddle.  You will balance yourself slightly with this hand, not gripping or holding on. Stand up and sit down several times until it is easy, then do it 8 times while your horse is walking.  Even if you can do it without using your hand, it is better to put your hand on the saddle and strength the muscle memory of your lower leg instead of using your core.
3.  Stand up and touch your horse between the ears.  Now that you are easily standing up and sitting down, reach up and touch your horse between the ears.  Then sit down, turn around and look at the dock of your horse's tail and then touch him there. 
  We want the lower leg to stay steady under your seat.  This may be tricky at first so get someone to hold your leg if you need to for a couple minutes.  I don't know of any better way to open up the hip joints, just remember to look at the tail first, then touch it.  Then go back up and touch the between the ears again. When your leg stays steady on it's own, you are ready to do it 8 times while the horse is walking.  If your horse stops or walks off, start again, 8 more times with rhythm walking forward.
  These little exercises will improve your balance if you do them every time you get on the saddle, it doesn't take long and the benefits are well worth it.  Might even help you feel better when you get out of the saddle.   Happy riding everyone!
Coming up on August 17, our next Saddle Fitting Class here at the farm on Copperhead Lane.  
October 19 & 20, 2019   Richard Shrake Resistance Free 2 day Riding Clinic.
  As always, thank you for reading the enewsletter and for sharing it and my info with your horsey friends.  I truly appreciate the opportunity to help the horses.
TTYS & God Bless!
Terry Peiper, Fit Right Saddle Solutions
Specialized & TW Saddles Rep, Christ & Thin Line Authorized Retailer
(717) 609-2822  TPeiper@aol.com