March 2019
Happy Spring Y'all!
I hope this enewsletter finds you and your horses doing well and enjoying some of this beautiful riding weather.  I am loving it!
NEW BARN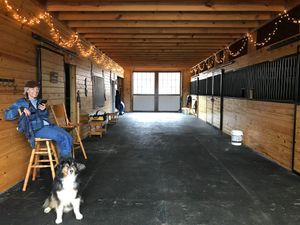 The biggest news here is we are finally in the new barn!  I know you can't see them in this picture but they are in there. 
Right after we put the horses in the new barn we took off for the Southern Equine Expo.   I love the Expos!   Sam Papalimu, our Specialized Saddles Rep in Clark, Colorado, Kayleigh Stewart, my working student from Duncannon, Pennsylvania and I spent 3 whole days educating riders about how saddle fit affects our horse's behavior, performance and ultimately the health of horse and rider. 
Right after the Southern Equine Expo, I went to the PA Horse World Expo.  Except for the snow (I hate snow) that show was pretty awesome too.  I got to visit with friends and family while the new Reps did all the work.  They are doing a great job taking care of the horses I left behind with Specialized and TW Saddles.  I am so grateful to them for stepping in for me.   
Here's  the list of our Reps in MD & PA
Karen Bates 443-974-1715 Westminster, MD
Dawn Diehl 717-275-4299 Millerstown, PA
David Galentine 717-870-7665 Dover, PA
All 3 of them have worked with me quite extensively.  They all follow the same evaluation and fitting process that I do to ensure the best possible fit for your horse.  And they are all committed to helping the horses, like Karen says, one saddle at a time.
Literally right between the 2 Expos I got to spend some time with Allison Armstrong Rehnborg.  She is a free lance writer working on an article for the Horse & Rider Magazine about western saddle fit.  YEAH!!  I absolutely love the opportunity to spread the word about proper saddle fit.  
THE NEW TW WESTERN DRESSAGE SADDLE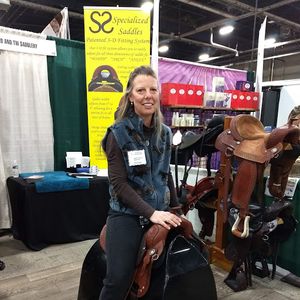 And if these past few months haven't been exciting enough, we have also been working on the new TW Western Dressage Saddle.  Nic, Annie & I are loving it.  I don't know why I am still surprised what a difference a saddle can make. This saddle has far exceeded my expectations.  We were looking for a light weight western stock type saddle that would allow us to be in the shoulder hip heel position with a lower swell and cantle so that we could pop over a little jump in Working Equitation and not struggle with getting a leg over.    We got all that and happier horses!
I absolutely love my TW Classic Wade and TW Barrel Saddles that I ride Nic and Annie in.  But when I rode in the new Western Dressage Saddle Annie gave me the best ride ever.  (Note:  she just turned 4 and so far I have only ridden her about 20-30 times, but still it was her best ride yet.)   She was easier to steer, better balanced and way more consistent. 
Nic has been lighter and more connected.  We usually ride in the front yard (first comes the barn, then comes the ring). When I ride in the Western Dressage Saddle it is easier to get his back up and I do a lot fewer half halts to keep him from losing his balance going down the hill or on the uneven footing. 
The new TW Western Dressage Saddle is available now, starting at $3,240 featuring the patented 3-D fit system (of course) a buffalo seat and butterfly skirting for light weight and comfort for horse and rider.   As soon as we finalize our plans, I will share some pictures and more specifications.
Meanwhile, I want to share a summary of an article I wrote.  Here's the rest of the story 
6 WAYS YOU CANNOT TELL IF YOUR SADDLE FITS
1.  Sweat  You cannot tell if your saddle fits by the amount of sweat on your horse's back.  There are many possible sweat patterns depending on weather, the length of time you ride, the material of your saddle pad and the length of your horse's hair coat.
2.  Photos  You cannot tell if your saddle fits by asking your friends on Facebook to look at photos of the saddle sitting on your horse.  To evaluate your horse's saddle fit you will need to put your saddle on without the pad and check for clearance along the spinal ligament, check the horizontal and vertical contact, check the length, width and angle, balance and rigging or billet placement. 
3.  If You Don't Ride in It  Just because a saddle looks good when the horse is standing still does not mean it is going to work while you are riding.  Some saddles lose their clearance with the weight of the rider or because the angles or rigging don't match up the saddle is not stable.
4.  Riding in A Friend's Saddle  You cannot tell if your saddle fits by trying your friend's saddle.  Just because your friend or trainer's saddle works for your horse does not mean that if you buy another saddle supposedly exactly like it, it will work for your horse.  
5. With 3 fingers  You cannot tell if your saddle fits by using the 3 finger test.  It is a good general rule to have 3 fingers clearance between the top of the withers and the saddle however, there are several other areas that also need to be considered.    Tree width, angle, length, horizontal and vertical panel contact, balance and rigging or billet placement.
6.  Stereotyping  You cannot tell if your saddle fits by stereotyping your horse.  Just because you buy a gaited horse saddle doesn't mean it is going to fit your gaited horse.  Each horse is an individual.  Every horse deserves to have a saddle that fits his saddle support area without painful pressure .  
Thank you for reading the enewsletter, sharing it with your friends and helping me help the horses.  I sincerely appreciate each and every referral.  Since we don't have a commission or sponsor program, everyone knows that if you recommend me that is just because you truly want to help the horses.   Thank you.
TTYS & God Bless!
Terry Peiper, Fit Right Saddle Solutions
Specialized & TW Saddles Rep, Christ & Thin Line Authorized Retailer
(717) 609-2822   TPeiper@aol.com  
edit profile
unsubscribe