Happy Summer!
  I hope this email finds you and yours doing well.  Sharing a picture of the new addition to our family.  Little Lacey is an 8 week old Mini Aussie.  I am sure you can understand why this was love at first sight.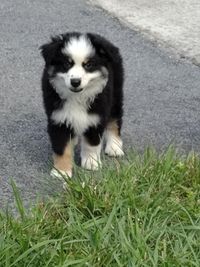 There are a couple of really great learning opportunities coming up that I also want to share.
  First one is our class here at the farm on Saturday, July 23.  This class is for anyone that puts a saddle on a horse.  It is especially  helpful to body workers, trainers and instructors that are dealing with a lot of horses and saddles.  We are not working on saddles and not looking at the saddles that I sell because they are all adjustable.  This class is to help you recognize what fits, what doesn't fit and why.  Not everyone wants or needs an adjustable saddle.  So, we use whatever saddles everyone brings and my horses are the guinea pigs.  Class fee is $125.  Pre-registration is required.  Note half the day we are in the AC.  There is still time to sign up
  The second date to mention is a collaboration with Stephanie Wilkens of High Point Equine Bodywork on Saturday, August 13 at Jessie's Run covered arena in Harrison, TN.   
  Stephanie is a Masterson Method Certified Practitioner and equine bodyworker.  She will teach participants how to recognize subtle visual cues that horses use to communicate where they hold tension and will guide them through hands on techniques to help the horse release tension.  Terry will teach participants how to evaluate their saddle fit and recognize signs of poor fit.   The clinic fee is $160 for participants with their horses and $60 for auditors.  Pre-registration is required.
  With bodywork and proper saddle fit, we can enhance performance and well being along with building connection and trust between horse and rider.  Contact Stephanie@highpointequinebodywork@gmail.com or 205-394-2454 to hold your spot.  We are limited on space so don't wait.
Did you know that your saddle should be checked every 6-8 months?
  Also, this month I want to emphasize the need for regular saddle fittings. The text book says that the saddle should be refitted by a fitter every 12 months.  But in the past 11 years of fitting saddles, I have seen some saddle fit go horribly wrong in a year so, I recommend doing it at 6 months.  That way if it is cold or a busy time and you stretch it to 8 or 10 months, it will probably still be ok.  We don't realize that the saddle fit has gone bad because it goes gradually and we get used to it gradually.  That is a good reason to come to one of the classes, to help you realize when it doesn't fit anymore.
  The reason I only have adjustable saddles is because I know the horses are going to change and the saddle that fits today is not going to fit in a year or 2 from now.   After all the time and money you invested, I think it would be pretty frustrating if next year, you needed to invest in another saddle.  That is the reason for the adjustability, so that the saddles can continue to fit as the horse changes.  BUT you have to get it adjusted.  
  That is why I have had to cut out traveling to new barns over 75 miles away because I don't ever want to be too busy for you all that have purchased these great adjustable saddles. I am still going to everyone I ever went to.  I am just not going to any new barns over 75 miles away. I so much appreciate your business and your recommendations and will continue to do all I can for you and your horses.
  I am still meeting riders in Alabama at the park in Birmingham and a couple private barns near Huntsville. Next trip to Oak Mt. Park is August 15-16.  Let me know if you want to be on the list.
  This is probably a good time to mention that the virtual fittings for the Specialized and TW Saddles have become very popular too.  Sometimes the hardest part is figuring out the time zones.  In the past couple weeks, I have worked on saddles in Oregon, Idaho, California and Arizona via phone, texts and snail mail.  (The measurements are lifesize and need to be in hard copy.)
  As always, thank you for reading the enewsletter and for sharing it with your friends.  I sincerly appreciate you helping me help the horses.  I hope you have a great rest of the summer and lots of good riding.
TTYS & God Bless,
Terry 
"Spreading the word about proper saddle fit and how it affects our horse's behavior, performance and ultimately the health of horse & rider."