Terry Peiper, CSE
Saddlefit 4 Life Certified Saddle Ergonomist

"Spreading the word about saddle fit and how it affects our horse's behavior, performance and ultimately the health of horse and rider through saddle fit evaluations and lectures."

  Holiday greetings from Buck N Horse Hollow!    I hope everyone is having a joyous season and enjoying this great riding weather. We had a great Christmas celebration with the family here at the farm.  I am pretty sure it was the first time we had Christmas dinner on the patio.

 This month, I have a little piece of the USEF 2014 Rule Book that I would like to share. Wouldn't it be great to see the dressage horses "happy, calm, confident, with light and consistent soft contact with the nose slightly in front of the vertical " just like the rule book says?  
---
DR101 Object and General Principles of Dressage 1. The object of dressage is the development of the horse into a happy athlete through harmonious education. As a result, it makes the horse calm, supple, loose and flexible, but also confident, attentive and keen, thus achieving perfect understanding with the rider. 2. These qualities are demonstrated by: a. The freedom and regularity of the gaits; b. The harmony, lightness and ease of the movements; c. The lightness of the forehand and the engagement of the hindquarters, originating from a lively impulsion; d. The acceptance of the bit, with submissiveness/throughness (Durchlässigkeit) without any tension or resistance. 3. The horse thus gives the impression of doing, of its own accord, what is required. Confident and attentive, submitting generously to the control of the rider, remaining absolutely straight in any movement on a straight line and bending accordingly when moving on curved lines. 4. The walk is regular, free and unconstrained. The trot is free, supple, regular and active. The canter is united, light and balanced. The hindquarters are never inactive or sluggish. The horse responds to the slightest indication of the rider and thereby gives life and spirit to all the rest of its body. 5. By virtue of a lively impulsion and the suppleness of the joints, free from the paralyzing effects of resistance, the horse obeys willingly and without hesitation and responds to the various aids calmly and with precision, displaying a natural and harmonious balance both physically and mentally. 6. In all the work, even at the halt, the horse must be "on the bit." A horse is said to DR DRESSAGE DIVISION © USEF 2014 4 be "on the bit" when the neck is more or less raised and arched according to the stage of training and the extension or collection of the gait, accepting the bridle with a light and consistent soft submissive contact. The head should remain in a steady position, as a rule slightly in front of the vertical, with a supple poll as the highest point of the neck, and no resistance should be offered to the rider. 
---
 If you want more information, so you can decide what is best for you and your horse I recommend Dr. Gerd Heuschman's books, Tug of War and the Balancing Act.  These books clearly describe the anatomy and biomechanics of the horse emphasizing the importance of the classical training methods. Regardless of your chosen discipline, understanding the classical methods will help ensure a happy healthy horse.  

  Since this is the last day of 2015, I thought it would be cool to review this year's newsletters. Here's the list in case you missed one:November 2015 - Quick notes justifying the costs of adjustable saddles

October 2015 - Kissing Spines Explanation

September 2015 - The Rules of Classical Horsemanship, Our online store was opened

August 2015- Saddle Channel Width Explanation, my 50th birthday

July 2015 - What is the Difference?  Saddle Tree Width vs. Saddle Tree Angle

June 2015 - Dissection Clinic Review, Saddle Fit Affects Horse & Rider

May 2015 - Easy Does It-Why I started saddle fitting

March 2015 - It's a Girl!   Pistol Annie Born 3-17-2015

February 2015 - Equine Anatomy Relative to Saddle Fit-Short review of Expo Demonstration

January 2015 - Saddle Sliding Back?  Do You Need a Special Girth? 
For your convenience,  in 2016 we will be doing evaluations and fittings 2 days per week here at our farm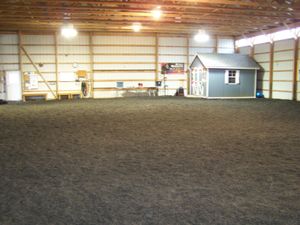 Buck N Horse Hollow
6 Buck Dr. 
Carlisle PA 17015.  

  We are usually 1-2  months out on the schedule but here at the farm, we can usually schedule within 1-2 weeks. We have plenty of room for trailers to park and turn around and we are easily accessible from 81.  Bring your trainer, friends or family, the more the merrier. Our barn is private so no worries about lessons, boarders or traffic.  We can focus on you and your horse's needs.
  Since we are inside on rubber footing we don't worry about snow, rain, wind, dark or cold. If you are thinking about a new saddle for 2016, we have several Schleese, Specialized andTW Saddles in stock for demo or purchase.   Most saddles need to be special ordered which normally takes approximately 12 weeks.  Since most riders wait until spring the manufacturers are typically behind then making the wait even longer.  Plan ahead so you are not stressed wondering if your saddle is going to be here in time for your ride or show season.  If you are looking for a used saddle, keep an eye on our used saddle listing, it is constantly changing.   Online registration form


 Thank you again for reading our little newsletter and helping me spread the word about how proper saddle fit affects our horse's behavior, performance and ultimately the health of horse and rider. I sincerely wish you a blessed and happy new year.  And Happy Birthday to all my 4 legged friends!

TTYS
TerryTerry Peiper, CSE
Saddlefit 4 Life Certified Saddle Ergonomist
Fit Right Saddle Solutions
Terry Peiper has been 
"Helping Horses With Their People"
 in south central PA for over 35 years by training horses and riders.  In addition to being an accredited Richard Shrake Resistance Free ® Trainer/Instructor, she is certified by the American Riding Instructors Association (ARIA) and the International Society of Rider Biomechanics. She has more than 45 years horse showing experience in several different disciplines, as well as several years of fox hunting and open show judging experience. You could say she has 
been there and done that
.
Studying saddle ergonomics started out as just another way for Terry to help her students however, it quickly took over her life when she discovered that her own horse, Easy had a condition called kissing spine which was likely caused by many years of riding in poor fitting saddles. "I can't go back and undo what I have done but I can spread the word about proper saddle fit to prevent other horses from needless suffering" says Terry.  Recognizing the huge need for proper saddle fit, Terry joined the Saddlefit 4 Life professionals and started the FIT RIGHT SADDLE SOLUTIONS. She passionately pursues her mission to educate as many riders as possible of the importance of proper saddle fit, how it affects the horse's performance, behavior and ultimately the health of horse and rider.   

  For riders searching for solutions, she proudly offers 
Christ
 pads and girths, 
Thin Line
shimmable saddle pads, 
Schleese
 dressage and hunt seat saddles, 
Specialized
 endurance and trail saddles and
TW
western saddles.   All the saddles can be adapted to fit the horse as it develops or fitted to another horse by changing the tree width, angle and horizontal panel contact.  Terry recommends saddle fit evaluations every 6 months. 
  Saddle fit evaluations/consultations, lectures, adjustable saddle sales/service and riding lessons are available at Buck N Horse Hollow in Carlisle PA or within a 120 mile radius (south central Pennsylvania and northern Maryland areas)