September 2016

  The only thing that stays the same is everything changes.  Our horses change shape with the seasons, age, conditioning, nutrition and especially training.  The saddles then need to be changed either with adjustments or to different saddles so that our horses don't suffer needless pain and possible permanent damage.  There really is no excuse for any horse to have a saddle that doesn't fit properly.  With all the technology we have at our finger tips, anyone at any time can find out for absolutely free online about how a saddle should fit their horse.

 Ignorance is no excuse!  Just like if you put your foot in the stirrup, you are responsible for that girth or cinch adjustment.  It is not up to your trainer, spouse, parent or your instructor; if you put the saddle on the horse, it is your responsibility to make sure it is correct. 

  You don't know what you don't know.  And for those of us that love horses, once you know how a saddle can hurt a horse, you can't go back and pretend you don't.  If you are having behavior or soundness issues with your horse, please consider the saddle fit as a source for the problem.
Finances are no excuse either.   Dr. Robson said in her book, if you can't afford a saddle that fits your horse, get a cheaper horse.  Actually, if finances are an issue then you should definitely pay even more attention to the saddle fit and preventing very costly damage.  With the huge variety of resources for saddles available today like, auctions, online tack stores, ebay, independent saddle fitters and saddle manufacturer representatives, there are new and used adjustable saddles available in every price range. 

  Check your saddle fit every time you saddle up.  If you find a problem, reset the saddle again and make sure the horse is standing pretty square and his head is straight.  If you still have a problem, you need to schedule an appointment with your saddle fitter.  Generally, that should be done every 6-12 months anyway.

Sometimes our horses change more than just their shape.  Here are a few pictures of Annie over the past year.  She is changing from a ½ TB into a whole Appaloosa!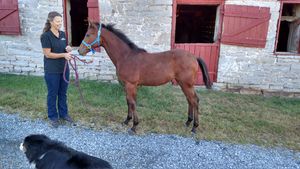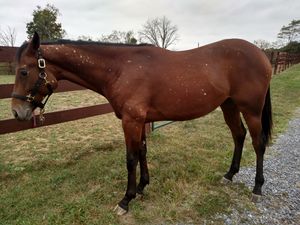 Another change for us and the biggest of all is our address is changing from 6 Buck Dr. Carlisle PA to 470 Copperhead Lane, Crossville TN 38571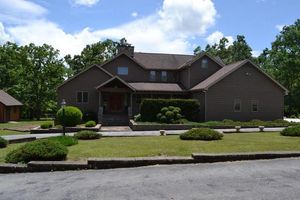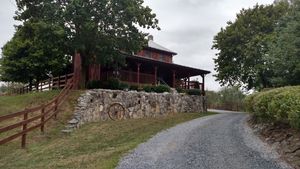 It is official.  We settled on the farm in TN today.  As many of you know, we have been considering this move for a very long time.  When we took Gentry home in August, the stars all lined up for us and we found our dream home.  Robert Cole made it all happen in a weekend now, a month and half later it is ours.  And actually we have been driving right past our new farm on Route 127 for 10 years but we never saw it because it sits way back off the road. 

  We have a plan with one of our favorite realtors here in PA to list our Buck N Horse Hollow
farm in the spring after Larry has completed her list and his wall, unless it sells before spring.  Larry has already started cutting back on his shoeing appointments so he can focus on getting ready to move.  

  I will still be working until December.   Starting in January 2017, Karen Bates and Wendy Palmer will be servicing and selling the Specialized and TW Saddles.  For the Schleese saddles, check the Schleese website for the contact information of the other Reps that come to this area. 

  If you know anyone else considering a big change in their lives, we have a farm for sale.  click here for farm photos

  60 acre horse farm with insulated indoor ring  60x100 with awesome rubber chunk footing not the dusty kind. There is also a huge 135 x175 sand/clay mixture outdoor ring.   The big old stone bank barn, stays cool in the summer and warm in the winter with 11 stalls most with rubber mats , 2 run in areas, wash rack, tack room, feed room ,  cow pens and a chicken house.  The 4 bay garage measures 30 x 60, room for 4 cars/trucks and all the extras.

  There are 20 acres of woods for trail riding and hunting. The 30 acres of hay fields provide more than enough hay for my 6 horses and lots extra to sell.  There are 6 paddocks for individual turn out and the rest in pasture.   

  Our 2,250 sq foot home has 3 bedrooms, 2 ½ baths, a large living room/family room area with hardwood floor and gas fireplace, a dining room, office, eat in kitchen, huge patio and walk around porch.  The house can be completely heated with home grown wood in the wood stove in the basement or for easier more attractive heat source there is a vented propane gas fireplace/furnace in the living room as well as a heat pump/central AC system.  Sitting back off the main road which is still not very busy, our house is surrounded by beautiful stone walls built by Larry.  We are 10 minutes away from Carlisle and Interstate 81.  We have plenty of room for dogs to run, kids to play, hunting, and a pond and creek for fishing.   
 
  As always, thank you for reading our enewsletter and for sharing it with your horse friends.  I am so grateful to have had this opportunity to help the horses in PA and now I am excited to be starting the next chapter in "Helping Horse With Their People" through educating riders and hopefully, a lot of trainers and instructors about the importance of proper saddle fit and how it effects our horse's behavior, performance and ultimately the health of horse and rider in TN.    

TTYS & God Bless,
Terry

Terry Peiper, CSE
Saddlefit 4 Life Certified Saddle Ergonomist

WWW.FitRightSaddleSolutions.com 

TPeiper@aol.com or (717) 609-2822

Buck N Horse Hollow
6 Buck Dr.
Carlisle PA 17015

"Spreading the word about proper saddle fit and how it affects our horse's behavior, performance and ultimately the health of horse and rider."