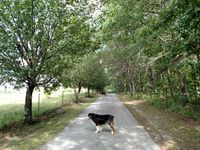 October 2017
  Greetings from Copperhead Lane!  I hope this newsletter finds you and your horses doing well.  Here are some TN Farm photos.  
  I am finally getting settled in and back to work. All the boxes I have here are unpacked and I am finally caught up on the mowing. Thankfully the grass is not growing so much anymore.  That has literally taken me all summer. Packing, unpacking & mowing. Oh and let's not forget all the driving, lots of driving. The farm in PA is still for sale.  Larry's Son, Zach is holding down the fort in PA while Larry travels back forth and around and around.  
 In this enewsletter, I want to share some thoughts with you about a show I watched on TV last night.
  The horse on the TV show was bucking, kicking out and basically refusing to go forward. She was 18 years old and this behavior was new for her. The clinician talked about a kinder bit, riding with 2 hands for more control, rewarding her while she is willing to move forward and a little extra work when she refused to go forward. All of these are very good points. But what about the saddle?!!
  By the end of the half hour TV show, the horse did show improvement. She was moving forward. She was not kicking out or bucking. And overall, the mare appeared to be happier. But no one said anything about the saddle! They changed saddles and didn't even mention it!! 
  Maybe the saddle didn't make any difference. Maybe the horse just needed some retraining. Maybe the magic bit solved all the problems. Maybe, but I doubt it. Why? Because I am positive that saddle fit really does make a difference in our horse's behavior and performance.
I have seen many times horses that buck or lack forward motion easily and freely move forward when nothing was changed except the saddle. 
  If a horse that has been good for years with the same owner and saddle, competing at shows, trail riding and chasing cows all of sudden at the age 18 stops wanting to go forward, bucks and/or kicks out like the one on TV, something is wrong! Horses don't lie. They are in the moment reacting to what they feel. That's it.
  Our horses change shape due to age, conditioning, seasons, lameness and other health issues. Older horses and younger horses change A LOT. The most notable change in the older horse is the back hollows.  The sway backed horse has a weakened spinal ligament (remember everything hangs from the spinal ligament) and the back muscles are not as strong.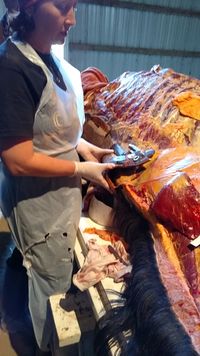 Here is the link to the videos I took at the horse dissection clinic. Dr. Ivanna Ruddock showed us exactly what the saddle on the horse looks like under the skin.
  The mare on TV is 18 and has likely lost some of her top line muscling. If the back muscles were holding the saddle up like they used to, the shoulders could pass freely under the front of the saddle.  But, when the back muscles drop, atrophy or simply slim down due to conditioning the front of the saddle drops right into the pocket behind the shoulder or shoulder hole.  
  A saddle that is tight on or behind the shoulders can cause painful damage every time the foot goes forward and the shoulder rotates back into the saddle instead of under it.The mare on TV  was probably refusing to go because she hurt. 
  To avoid painful damage to the shoulder cartilage, spinal ligament, nerves, skin, muscles and vertebrae, it is very important that the saddle has good even contact and not be too tight on the shoulders or pinch the withers.  The tree angle must match the shoulder angle so that the shoulder can pass freely under the saddle and not bump into it.  The saddle must be balanced to distribute the rider's weight  equally.  The rigging must be allow the saddle to stay in the proper place.  The length of the saddle should be appropriate for the length of the horse's back.  Good saddle fit can not be determined by analyzing sweat patterns.
Can a pad fix the problem?
  Saddle pads do make a huge difference in saddle fit.  The thickness of a pad can significantly change how thick or thin the horse is. The pad material can help and sometimes hurt a horse.  For the mare on TV it might be possible to build a bridging pad to fill in the hollow spot where her muscle used to be. 
 To build a shimmed bridging saddle pad the horse's saddle support area and saddle must be measured. The saddle's tree angle must match the horse's shoulder angle, the saddle's length and rigging needs to be correct for the horse's conformation.  These issues can not be fixed with a saddle pad of any kind.
  If you haven't had your saddle fit evaluated in the past 6 months and you plan on riding over the winter, it is time to get the saddle checked.
In and around Maryland contact
Karen Bates (443) 974-1715    Authorized Specialized & TW Saddlery Represenative
In PA contact
Dawn Diehl (717) 275-4299  Authorized Specialized & TW Saddlery Represenative
In TN go to our EVALUATIONS page on our website to register for an evaluation or fitting.
  Thank you so much for reading the enewsletter, sharing it with your friends and helping me spread the word about proper saddle fit and how it affects our horse's behavior, performance and ultimately the health of horse and rider.
  I wish you a fantastic fall riding season.  Enjoy!!
TTYS & God Bless,
Terry PeiperSpecialized and TW Saddles Representative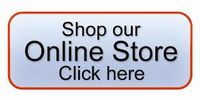 Christ and Thin Line Authorized Retailer
www.FitRIghtSaddleSolutions.com  
new address:    470 Copperhead Lane, Crossville TN 38571 
                          (located 7 miles north of I-40 on Rt. 127)
  Before moving to Crossville, TN Terry Peiper has been "Helping Horses With Their People" in MD & PA for the past 35 years as an accredited Richard Shrake Resistance Free ® Trainer/Instructor and certified American Riding Instructors Association (ARIA) Instructor. She has more than 45 years horse showing experience in several different disciplines ranging from Appaloosa breed shows, hunters, barrel racing, dressage and side-saddle, as well as several years of fox hunting, hunter paces and open show judging experience. You could say she has been there and done that.
  In 2010, she began studying saddle ergonomics (interfacing saddle, rider & horse to become one) when she realized that the saddle fit has a huge impact on the horses she was working with. What started out as just another way for Terry to help her students, quickly took over her life when she discovered that her own horse, Easy, had a condition called kissing spines which was likely caused by many years of riding in poor fitting saddles. "I can't go back and undo what I have done but I can spread the word about proper saddle fit to prevent other horses from needless suffering" says Terry.
  Terry passionately pursues her mission to educate as many riders as possible of the importance of proper saddle fit, how it affects the horse's performance, behavior and ultimately horse and rider health through individual saddle fit evaluations, interactive seminars and presentations.