Terry Peiper, CSE
Saddlefit 4 Life Certified Saddle Ergonomist

"Spreading the word about saddle fit and how it affects our horse's behavior, performance and ultimately the health of horse and rider through saddle fit evaluations and lectures."

Hello!

  I hope this newsletter finds you and your horses doing well.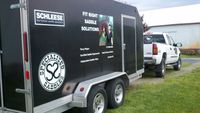 Sadly, we had to say goodbye to our saddle trailer this month.  We had a little mishap on the highway in Harrisburg.  Fortuneately, no one and no saddles were seriously hurt.  The truck is being repaired and the new saddle trailer is in the works.   

  Otherwise, it has been business as usual.   There have been so many great testimonials and referrals lately, I can't thank you all enough.  It is such a good feeling when a horse says thank you.  Thank you again for helping me help the horses.

KISSING SPINES

  Kissing spines also known as overriding dorsal spinous processess or spinous processes impingement is a very common cause of our horse's back pain.  One veterinarian in the UK reports that is the most common cause of back pain.  Since saddle fit is one of the possible causes of kissing spines, I want to share some of the information that I have found.

  The spinous processes stick straight up from the vertebrae.  The processes in the wither area are very long, in the middle thoratic vertebrae area they are very short (base of the wither) and in the lumbar area they angle towards the front of the horse.   At their tops, they are all held together by the supraspinous ligament.  That ligament is approximately 4 fingers wide and about a finger thick.  It is the reason why and how our horses "go round" and can lift their backs.  

  When the processes rub together, it is bone against bone aka arthritis.  The ligament around the processes can then become irritated and sore. This can also happen in reverse. Aggravating the supraspinous ligament can cause the processes to rub together.

  What causes the ligament to be aggravated?   Answer: Saddles with narrow channels and/or long saddles.  Of course, rolling on a rock and other accidents could also damage the spinal ligament, sometimes they say horses are just born that way, but I think it is safe to say, it is usually the saddle.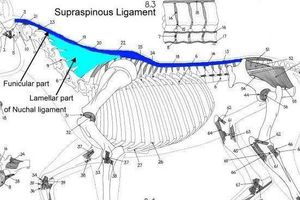 To prevent damage to the ligament the saddle tree should make a bridge from the muscles covering the ribs on one side of the horse to the muscles on the other side of the horse allowing clearance over the top of the ligament and processes.  And since the spinal ligament goes from the poll to the pelvis that clearance needs to go the whole length of the saddle.

   A lot of saddles, especially western and jump saddles, do not have enough clearance on the sides of the withers to keep the riders weight off of the ligament in the wither area and allow the shoulder to pass through.  

  Signs of kissing spines and damaged spinal ligament are sore back, hunter's bump, sway back, biting when girthing up, dragging toes, bucking, stiffness in hindend, trouble going down hills and sore hocks and stifles. 

  When I learned that I had been riding Easy in saddles that were too long for him and could be the reason he has significant kissing spines, there was absolutely no doubt that I needed to spread the word about saddle fit and how it affects our horse's behavior, performance and ultimately the 
health of horse and rider.  Keeping Easy comfortable is all I can do for him now, but through saddle fit evaluations, newsletters, demonstrations and clinics.  I can prevent other horses from needless suffering.   Thank you to 

Callie King, CRK Training

 for catching 

the story on video.  



  And as always, thank you for reading the newsletter and sharing it with your friends.  Please do keep in touch and enjoy this fantastic riding weather.TTYS & God bless!
TerryTerry Peiper, CSE
Saddlefit 4 Life Certified Saddle Ergonomist

Fit Right Saddle Solutions

Click here for our past Newsletters
Terry Peiper has been "Helping Horses With Their People" in south central PA for over 35 years by training horses and riders.  In addition to being an accredited Richard Shrake Resistance Free ® Trainer/Instructor, she is certified by the American Riding Instructors Association (ARIA) and the International Society of Rider Biomechanics. She has more than 45 years horse showing experience in several different disciplines, as well as several years of fox hunting and open show judging experience. You could say she has been there and done that.

  Studying saddle ergonomics started out as just another way for Terry to help her students however, it quickly took over her life when she discovered that her own horse, Easy had a condition called kissing spine which was likely caused by many years of riding in poor fitting saddles. "I can't go back and undo what I have done but I can spread the word about proper saddle fit to prevent other horses from needless suffering" says Terry.

  Recognizing the huge need for proper saddle fit, Terry joined the Saddlefit 4 Life professionals and started the FIT RIGHT SADDLE SOLUTIONS. She passionately pursues her mission to educate as many riders as possible of the importance of proper saddle fit, how it affects the horse's performance, behavior and ultimately the health of horse and rider.   

  For riders searching for solutions, she proudly offers 

Christ

 

pads and girths, 

Thin Line

 

shimmable saddle pads, 

Schleese

 

dressage and hunt seat saddles and 

Specialized

 

endurance, trail and western saddles.   All the saddles can be adapted to fit the horse as it develops or fitted to another horse by changing the tree width, angle and horizontal panel contact.  Terry recommends saddle fit evaluations every 6 months. 

  Saddle fit evaluations/consultations, lectures, adjustable saddle sales/service and riding lessons are available at Buck N Horse Hollow in Carlisle PA or within a 120 mile radius (south central Pennsylvania and northern Maryland areas)