November 2014  
  Based on the overwhelming response I had to my request for demo riders at our Free Saddle Fitting Demonstrations on Oct. 25th and Nov. 28th, I am very happy to report that it is obvious that riders are concerned about their saddle fit and the effects it has on the horse's performance, behavior and ultimately the health of the horse and rider. However, the cost of the evaluation is apparently still a factor.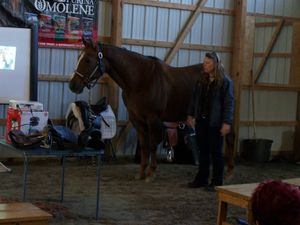 At the demonstration we had on Oct. 25th, I reviewed horse anatomy and how it relates to saddle fit.  Easy stood by to give the "real life picture" as we looked at the anatomy pictures on the screen.

  During the riding portion of the demonstration one of horses appeared to be foot sore in the front and very short strided in the rear while being ridden with their saddle.  After we fitted a saddle that allowed shoulder freedom, the horse started to track up, relax her neck and she did not appear to be foot sore any more. 

  Another horse did the same thing at an evaluation last summer. A farrier friend that was watching explained that when the saddle restricts the shoulders that it also influences the break over and landing of the foot.  So, when we freed up the shoulders the horse was able to land on her heels instead of her toes which is much more comfortable for her and will prolong her sound and useful years.  Dr. Joanna Robson DVM, author of Recognizing a Horse in Pain and What You Can Do About It, and I believe that we are causing a lot of our own lameness problems with saddles that are restricting the shoulders. 

  We are having another free demonstration.
  Friday, November 28, 2014  at 9 am
 Buck N Horse Hollow 
6 Buck Dr.  Carlisle PA 17015
Bring a friend & a chair
 
   The topics will be to review the saddle support area and how the saddle fit effects the rider and rider's position. Bring a friend and a chair, this is not a sales pitch.  It is an interactive educational event.  



CONSIDERING A SADDLE FIT EVALUATION?



  If we haven't met yet and you are considering having your saddle fit evaluated, let me explain your options.

1.  You can haul your horse to our barn, where we do evaluations in our indoor arena 1-2 days every week.  The fee is $99. 
2.  
We can come to your barn within 100 miles of Carlisle, PA to evaluate your saddle fit.  The fee is $149.
AFTER YOUR SADDLE IS EVALUATED



  After we have completed the static and dynamic fit evaluation we will explain your options.

1.  Your saddle needs adjusting either by flocking, tree adjustment or temporarily with a shimmed saddle pad.  The fee is 0-$195 depending on the amount of work that is needed plus the evaluation fee.   
2.  Your saddle fit is already very good and nothing needs to be done.

3.  Your saddle does not fit and nothing can be done.  You can try one of our adjustable saddles or use the information we give you to go saddle shopping.   If you choose to buy a new saddle from us,  

your next evaluation and adjustment is totally free.

 
4.  You can keep your saddle and buy a new horse that fits it.



HOW OFTEN SHOULD THE SADDLE FIT BE EVALUATED?
  In the past, I have passed on the recommendations that I was given regarding frequency of professional saddle fit evaluation.  

Horse's Age 3-8 = Twice a year
Horse's Age 8-15 = 1 to 2 times a year
Horse's Age after 15 = Twice a year

  But based on my own experiences I am recommending everyone have their saddle evaluated by a professional saddle fitter or Ergonomist no less than

 

twice a year.



  The first experience that comes to mind is the horse that I just purchased.  Toy Nic was my horse until 2 years ago.  Nic had his own saddle adjusted to fit him.  After almost 2 years his withers and wither angle significantly changed causing the saddle to rock. The result was 2 patches of white hairs in the middle of his saddle support area on both sides.  Pressure resulting in white hairs can cause muscle atrophy, pain and behavior issues.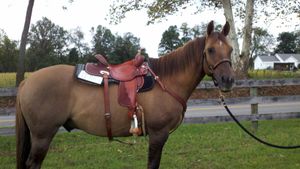 An advanced rider who works with a trainer regularly was slipping to the right at her evaluation.  Her right foot was about 2" lower than her left.  Since the change had happened gradually, she did not notice until I made it straight.  Her last evaluation was a year ago.    Saddles that slip to one side can damage the spinal ligament and can cause hindend lamenesses.

  Another rider told me at her evaluation that she hasn't been able to ride much lately because of the pain she was experiencing in her back but her trainer had been keeping the horse fit.   The flocking in her saddle was so compressed that there was no longer any support for her back. Again, it happened gradually so no one noticed that she had no support which could be the reason for the back pain.  
$$$$$$$$$$$$$$$$$$$$$$$$$$$$$$$



  Sometimes riders tell me that they can't afford an adjustable saddle.   I thought that way once too.  Let me briefly summarize how that turned out:

  Horse not sound, tried several instructors, clinicians and saddles, changed disciplines, vet appointments, medication, injections,  supplements, nothing worked, so I bought another horse. That horse did not work out so I bought another horse.   I could have bought 3 saddles and saved my horse a lot of needless suffering.

  A couple years ago, I heard about a western rider that was killed when her horse stumbled and fell.  I wish that I had evaluated that saddle especially the shoulder freedom.  

  Another horse I didn't get to evaluate blew up got away while he was being lunged.  The horse fell, broke his shoulder and had to be put down right away. A poor saddle fit can cause dangerous behavior.   Is the cost of the evaluation really a factor?
 
  As always, thank you for reading our enewsletter, for all the referrals and most of all for giving me the opportunity to help the horses.  Happy Fall Everyone!

TTYS & God Bless
Terry

 
Terry Peiper
FIT RIGHT SADDLE SOLUTIONS
Saddlefit 4 Life Certified Saddle Ergonomist
Authorized Schleese Saddlery, Thin Line, Specialized Saddles & TW Saddlery Representative
ARIA, ISRB & Richard Shrake Certified Instructor
Specializing in "Helping Horses with Their People" for over 30 years.
BUCK N HORSE HOLLOW
6 Buck Dr. Carlisle PA 17015
(717) 609-2822