March 2017

As I am either in TN, PA or somewhere in between I am sharing the contact info for the ladies that are taking care of your saddles.
Remember, horses change.  A professional fitter should evaluate your saddle fit at least every 6 months.

For TW & Specialized Saddles contact

Karen Bates, Sweet Seat Saddles, sweetseatsaddles@gmail.com  443-974-1715 or

Dawn Diehl   Saddle Tech Solutions  saddletechsolutions@gmail.com     717-275-4299

For Schleese Saddles contact

Lianna Lundy, Schleese Saddlery, llundy@schleese.com  800-225-2242  or
       
Terri Anne Dougherty, Charlton Equine,  terriannedougherty@gmail.com  518-399-3169  or

 Kara Somerville, Skylands Saddlery,   kara@skylandssaddlery.com   908-782-1944
---
Spring Cleaning Your Tack
Thin Line Sheepskin Pads

ThinLine sheepskin products are made with 100% medical grade merino wool on a real (non-synthetic) hide. 
Regular Maintenance – The most important thing to know about sheepskin is that it hates to stay wet. If you ride the sheepskin against the horse or get it thoroughly soaked make sure it is well dried between rides. Place the pad sheepskin face up in a cool environment. In humid climates use a fan to blow over the pad.  Once the pad is dry, lightly brush the sheepskin with a pet brush to help to keep the wool fluffy and resilient for the next ride. Daily: Ride, flip sheepskin side up to store, brush occasionally.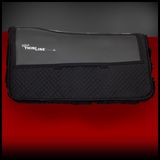 Washing Sheepskin—Pads should only be washed when absolutely necessary, which should only be about 2-3 times in it's lifespan if the above maintenance care is followed. Sheepskin saddle pads are best washed by hand in cold water using one of the following three approved products: Eucalan, Johnson & Johnson's Baby Shampoo, or Ivory Snow Flakes.  These products have been tested on sheepskin and are covered under warranty.  You may machine wash (although hand wash is preferred) in a front loader, no agitators against the pad, single wash cycle only. Remove excess water in the pad by carefully squeezing the water out or placing in your washing machine on the spin cycle. Please do not use Melp!

Drying Sheepskin— Sheepskin saddle pads should be laid flat, sheepskin up, out of the sun preferably under a fan. No dryers or other heating devices. The ThinLine shim may slow drying time so placing absorbent products such as heavy duty paper towels or shami's such as sham wow inside the pocket will absorb water, speed the drying time and keep your sheepskin in better shape. Don't over stuff pockets or the sheepskin may stretch. Do not brush or pull sheepskin when wet.
To keep the rolls clean and extend washing cycles, especially on white pads, you may lightly spray Scotch Guard the rolls.

The Thin LIne Western Sheepskin Pads, Felt Pads & the Shendoah Pad are available on the website.
 
---

Christ Girths and Saddle Pads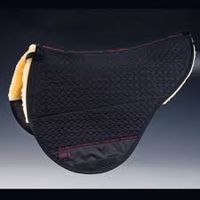 Thanks to the exclusive tanning process, all of our Christ sheepskin products can be washed in a standard washing machine.  Wash with the wool wash or other delicate program, set at 86 degrees F.  Products with metal parts should be washed in a cloth bag.  Use only Leather Therapy for Wool or Christ special washing agent.  After washing, put product into dryer seat at max 104 degrees.    Do not dry your sheepskin products in the sun.

Christ Girths & Saddle Pads are available on the website  


Specialized and TW Saddles

I use Lexol cleaner and conditioner on my Specialized Saddles.  For a really dirty saddle, I will wash the saddle with soap (leather new) and water.   Then after I make sure all the soap is removed, I will use Lexol pure neatsfoot oil.  (not compound)   
 
NOTE:  Your saddle rack should support the saddle down the
gullet and not on the cushions.  Rubber cushions should
not sit on metal tubing.   Check your saddle for saddle rack damage.

As always, thank you for reading our newsletter, sharing it with your friends and helping me help the horses.  I hope you have a great spring and summer.  

TTYS & God Bless,
Terry

Terry Peiper
Fit Right Saddle Solutions

" Spreading the word about proper saddle fit and how it affects our horse's behavior, performance and ultimately the health of horse and rider."