March 2016

Happy spring and spring cleaning!  I have a really nice little electric pressure washer that is great for cleaning the turnout sheets. In fact, it works so nice I have a great time cleaning all kinds of things with it.   Since spring cleaning seems to be a popular topic, this month I would like to share with you the manufacturer's cleaning and care recommendations for some of the products we sell.  

Girth Care and Conditioning from Schleese Saddlery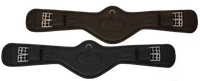 We encourage all clients to wash off the sweat, and then use oil to condition, NO PASSIER CREAM.  We have found the Passier Cream may cause some dry skin and irritation in the girthing area which is why we are recommending the oil.  WE DO NOT RECOMMEND HYDROPHANE OIL. We recommend a Neatsfoot oil or organic olive oil J. The important part is the sweat comes off and oil after washing.  Washing without conditioning will lead to dry and cracked leather.   
French Leather and Italian Calfskin Care and Conditioning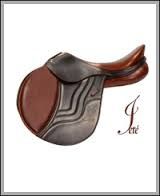 For the Schleese Italian Calfskin saddles, Jete and Merci  and all other French leather jump and dressage saddles DO NOT TO USE HYDROPHANE OIL.  Rinse off dirt and sweat with warm water after every ride.  Every 3-5 rides, use a glycerin soap, rinse thoroughly and condition. We recommend Passier Cream to condition these saddles and Neatsfoot oil sparingly, if needed.
Your saddle rack should support the saddle down the gullet and not on the panels.  Wool panels should not sit on metal tubing. To maintain leather suppleness, store your saddle at room temperature with 30-40% humidity to prevent dryness or mildew.
Thin Line Cotton Pads 
Machine wash your cotton comfort saddle pads in a front loader with cold water and mild detergent (you may bleach the white ones). Use a mild/gentle cycle, and then hang your pad to dry. Turn the ThinLine against itself and wash the cotton side against the machine.  ThinLine Cotton Comfort saddle pads can take more washings than you can imagine, and they dry quickly! Easy care so that you have more time to ride.
Thin Line Sheepsking Pads
ThinLine sheepskin products are made with 100% medical grade merino wool on a real (non-synthetic) hide.
Regular Maintenance
 – The most important thing to know about sheepskin is that it hates to stay wet. If you ride the sheepskin against the horse or get it thoroughly soaked make sure it is well dried between rides. Place the pad sheepskin face up in a cool environment. In humid climates use a fan to blow over the pad.  Once the pad is dry, lightly brush the sheepskin with a pet brush to help to keep the wool fluffy and resilient for the next ride. Daily: Ride, flip sheepskin side up to store, brush occasionally.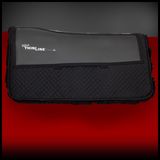 Washing Sheepskin
—Pads should only be washed when absolutely necessary, which should only be about 2-3 times in it's lifespan if the above maintenance care is followed. Sheepskin saddle pads are best washed by hand in cold water using one of the following three approved products: 
Eucalan, Johnson & Johnson's Baby Shampoo, or Ivory Snow Flakes.
  These products have been tested on sheepskin and are covered under warranty.  You may machine wash (although hand wash is preferred) in a front loader, no agitators against the pad, single wash cycle only. Remove excess water in the pad by carefully squeezing the water out or placing in your washing machine on the spin cycle. Please do not use Melp!
Drying Sheepskin
— Sheepskin saddle pads should be laid flat, sheepskin up, out of the sun preferably under a fan. No dryers or other heating devices. The ThinLine shim may slow drying time so placing absorbent products such as heavy duty paper towels or shami's such as sham wow inside the pocket will absorb water, speed the drying time and keep your sheepskin in better shape. Don't over stuff pockets or the sheepskin may stretch. Do not brush or pull sheepskin when wet.
To keep the rolls clean and extend washing cycles, especially on white pads, you may lightly spray Scotch Guard the rolls.
Cotton Saddle Pads
For cotton saddle pads we recommend machine washing with baby laundry detergent or in the wash rack with horse shampoo. WE DO NOT RECOMMEND regular laundry detergent especially Tide for our saddle pads.
Christ Girths and Saddle Pads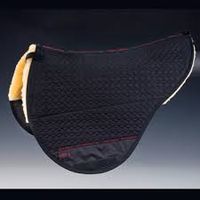 Thanks to our exclusive tanning process, all of our Christ sheepskin products can be washed in a standard washing machine.  Wash with the wool wash or other delicate program, set at 86 degrees F.  Products with metal parts should be washed in a cloth bag.  Use only Leather Therapy for Wool or Christ special washing agent.  After washing, put product into dryer seat at max 104 degrees.    Do not dry your sheepskin products in the sun.
As always, thank you for reading, sharing and helping me help the horses.  I hope you have a great spring.
TTYS & God Bless,TerryTerry Peiper, CSESaddlefit 4 Life Certified Saddle Ergonomist
Fit Right Saddle Solutions
  For riders searching for solutions, Fit Right Saddle Solutions offers 
Christ
 geniune sheepskin pads and girths, 
Thin Line
shimmable saddle pads, 
Schleese
 dressage and hunt seat saddles, 
Specialized
 endurance and trail saddles and
TW
western saddles.   All the saddles can be adapted to fit the horse as it develops or fitted to another horse by changing the tree width, angle and horizontal panel contact.  
Saddle fit evaluations/consultations, lectures, adjustable saddle sales/service are available at Buck N Horse Hollow in Carlisle PA or within a 120 mile radius (south central Pennsylvania and northern Maryland areas)