June 2018
Hello! 
  Hope you are doing well and enjoying some fantastic riding.  I am exercising Nic so he doesn't have to wear a muzzle and starting Annie.  How exciting to be on her back after 3 attempts to breed Fancy, 11 months of pregnancy and 3 years of ground work.  I will be taking it slow with her.  Even though she is 15.2, she is still a baby at 3 and not near ready for my weight.
  The builders finished our barn.  yeah!!!   Larry is building stalls for us, in between trips to PA.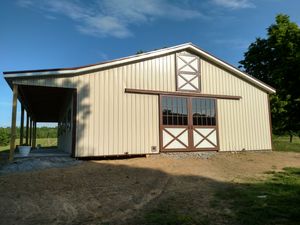 I've been blessed to have the opportunity to help some really neat horses lately.  I want to share with you 2 recent FB posts.  So glad I could help Angela with her TW Classic Wade and Shawna with her TW Featherweight Trail.  Enjoy Ladies!!
  "Ok so to say I'm excited is a huge understatement. After trying/buying (and selling) at least 14 saddles I decided to have a custom saddle made. This saddle is NOT like other custom saddles. So if you love your pony you truly owe it to him/her to get a saddle that frees them up to move as they need to naturally. So many problems (physical as well as behavioral) can be attributed to incorrect saddle fit. I highly recommend Terry Peiper with Fit Right Saddle Solutions. She is very knowledgeable and truly caring. Check her out!"
Angela Pauley FB post
---
  "I had an amazing day today learning about saddle fit with Terry Peiper of Fit Right Saddle Solutions!! I have had such a hard time finding a saddle that will fit Domino I was nearly at my wit's end. I met Terry a few months back and I was finally able to schedule and have her evaluate Domino's back. Boy was that an eye-opener! Poor Domino's back is all kinds of crazy and all my saddles fit terribly. It's a wonder she even let me ride with the amount of pressure that her ligaments and spine have endured (we rode without a pad and traced the dust marks on her back after, it was pretty bad).
  The REAL test was riding in my saddle then riding in one of Terry's saddles that was specifically adjusted for her back. The ride in my saddle was chaos. As soon as we put the fitted saddle on her back, my posture improved, her posture improved, and we had one happy mare! Her behavior improved tremendously and I could feel that her shoulders had "freed up" and she was able to move like she is supposed to.
  I can't say enough wonderful things about Terry, she took a ton of measurements on Domino, myself, my saddles, and she made sure I understood the shoulder angles, the anatomy of the back and muscles, and how a good fitting saddle is supposed to fit. She knows her stuff! If your horse is in pain and you suspect it's your saddle, please give her a call and get it fixed quick! Your horse will love you for it I promise."
Shawna Prater Davenport FB post
---
 What does this sweat pattern mean?It means Annie had a saddle on long enough to make her sweat.  First time.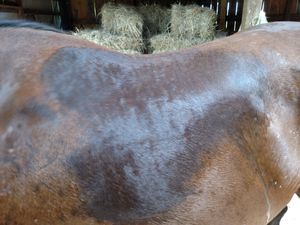 So, how do you know if your saddle fits?  Well, first of all you cannot tell by looking at the sweat patterns or with a picture of a saddle sitting on a horse.  Sometimes you can rule out something that is obviously horrible but that's about it.  Diagnosing saddle fit with a picture or a sweat pattern is like sending a picture to the doctor and expecting him to give you a diagnosis and a prescription.  My Grandson, Gentry had a fever last week, can you imagine how ridiculous and downright dangerous it would be to ask a Doctor for a diagnosis from a picture?  Yet that is exactly what a lot of riders are doing.  Saddles can cause some pretty severe damage to your horse, don't trust a sweat pattern or free advise on the internet. 
  If you have any doubts, hire a saddle fitter.  Here are some clues of what to look for if you want or need to do it yourself.  To evaluate your saddle fit put your saddle on without a saddle pad  READ MORE
---
  At our Basic Saddle Fitting Class in March, we found that out of about 10 saddles, 1 or 2 of them fit one of my 5 horses.  Finding a saddle that fits off the rack is like finding a needle in a hay stack.  With some determination you can find one but you better save some more determination because horses change shape due to seasons, conditioning, age and health issues.  If your saddle is not adjustable, you could be saddle shopping again within a year.
  Our next Basic Saddle Fitting Class is July 21, 2018   I guarantee you will know by the end of the day what fits, what doesn't fit and why.  
---
  For a shorter educational presentation on saddle fitting join us at South Fork Tack on June 24, 4 pm ET.  
  Hope to see you soon!  Until then stay cool and enjoy your rides.
TTYS & God Bless,
Terry Peiper