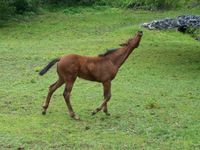 Greeting from Buck N Horse Hollow!   Thankfully, spring has sprung and everyone is out and about enjoying their horses.  Whether it is trail riding, clinics, dressage, endurance or games; saddle fit affects all of our horses' performance, behavior and ultimately the health of horse and rider.   
HORSE DISSECTION CLINIC 
  Larry & I attended Equine Touch Foundation Whole Horse Dissection Clinic with Dr. Ivana Ruddock a few weeks ago at the home of Cate & Ray Stoltzfus in Shoemakersville, PA.  I highly recommend this clinic to anyone that wants to gain a better understanding of horse anatomy. It is especially helpful for body workers as they can identify and feel the muscles, nerves, tendons, ligaments, bones and cartilage. 
   However, I have to warn you that as you discover the ailments and issues the horse was living with (this horse was a 30 year old retired eventer) you may come away a bit depressed.   For us, it was heart breaking thinking about what horses go through for us. We all constantly reminded each other, that it is a learning process and we didn't know what we didn't know 15 years ago when she was competing.   I still felt the need to rub on all my horses and apologize to each of them when I came home. 
  Of course, I was especially interested in the horse's saddle support area at the clinic and how the saddle affects the horse.  Dr. Ivana Ruddock said that 40% of pressure is felt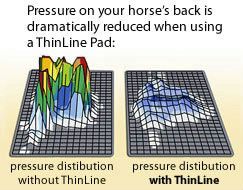 in other parts of the body.  She showed us over and over again how everything is connected with fascia.  Since a large part of the saddle support area is covered with fascia which communicates to the brain 4 times faster than the nervous system, we agreed that a saddle pad that distributes the pressure out horizontally like the ThinLine pads really was a huge benefit to the horse.  Click here to see our ThinLine Pads.  
  With the shoulder and saddle tree exposed, it is very clear to see why the saddle tree angle must match your horse's shoulder angle.   Click here if you want to see the pictures.  
  The saddle tree should rest on the muscles behind the shoulder and must allow the top of the shoulder blade and cartilage to pass through under the front of the saddle with each step.  And the billets must be in the right place so the saddle actually stays there. Horses that jump especially need this room since they need to have both shoulders up and back at the same time.  Sadly, it is the jumpers that have the least room because the little bit of room they do have is filled in with half pads. 
If there is not enough room 
The shoulder cartilage can be damaged 
The horse may appear to be off or is actually lame 
The horse could be resistant to pick up a lead 
The horse may refuse to jump 
The horse may become anxious when riding down hill 
The horse may form large shoulders and large holes on the sides of the withers 
The horse may be tripping 
   
The horse in the clinic was an eventer, she did have chipped cartilage, side bone and ring bone on the foot below it.   Research shows that poor saddle fit can cause lameness and permanent damage.  
   
  Learning horse anatomy in a book is like getting a picture of the Grand Canyon in a text.  The clinic is like being in the Grand Canyon.   If you or anyone you know is interested in attending the clinic, contact Cate at maidensprings@msn.com.   The next one is in October. 
I NEED TO VENT 
  I a review at www.horsetackreview.com on Schleese Custom Heike Kemmer Dressage Saddles that is very disturbing to me.   She said "I should have known better, Schleese is known for poor customer service after the sale is made and I would have to agree."   I feel her frustration and I am sorry she is not getting service for her saddle. I think I would probably be that other Rep. that is 3 hours away and I agree with her; that is too far to drive for a saddle fitting.    
  I understand and agree that it is difficult sometimes for the Schleese Reps based in Canada, to provide service for saddles in the states; but, her complaint is really with the independent Rep. that she purchased the saddle from not with Schleese Saddlery.   
  This is exactly why it is my  policy to travel no more than 120 miles from our home address in Carlisle, PA. (Unless we visited your farm before I had to be firmer with the traveling distance)  For me, a saddle sale is not a once and done deal.   It is a commitment.  The rider has committed to find the best possible saddle fit for their horse and I am committed to keep it that way.   
  I know for a fact, (since I am one of them) that Schleese Saddlery is trying really hard to train more Reps to service their saddles.  However, the process is long and hard.  Only 1 of 4 applicants usually makes it. I stuck it out and I am here today because I want to help the horses.  If you have a comment or complaint about my service please tell me.    
CANCELLATIONS 
  Chas & I are very busy adjusting saddles and sharing the Schleese and Specialized systems with new clients.   We are trying to get to everyone in a timely manner but sometimes, it is difficult to accommodate everyone's schedule.   Please, be considerate to others; keep your scheduled appointments, if possible.   I do not want to be the "cancellation police" and charge for cancellations, I understand real life happens.  (Especially with horses)   However, in order for us to give the quickest possible service we simply ask that if you know you need to reschedule to please do it at least 3-4 days ahead so that we have time to offer someone else that time.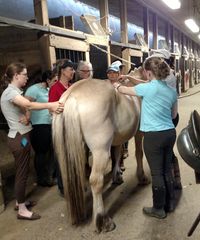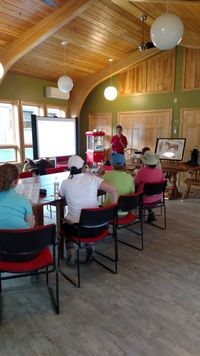 Thank you to the Thorncroft School Instructors for giving me the opportunity to share a little bit of saddle fit and horse anatomy .  AND for staying after class, trying saddle after saddle to help this pony be more comfortable in his work.  Your compassion is truly noteworthy.   
CALLIE's INTERVIEW 
  My friend Callie King of CRK Training recently met with my friend, Jochen Schleese from Schleese Saddlery.   Click here to hear Jochen explain how the saddle fit affects the rider in his interview with Callie.    Good job Callie and Jochen! 

 
  As always, thank you for reading our newsletter, sharing it with your friends, all the referrals and helping me, help the horses.   Please remember that you are the steward of the horse. 
TTYS 
Terry 
Terry Peiper 
Fit Right Saddle Solutions 
Buck N Horse Hollow 
6 Buck Dr. 
Carlisle PA 17015 
(717) 609-2822 
  Terry Peiper has been "Helping Horses With Their People" in south central PA for over 30 years by training horses and riders.  In addition to being an accredited Richard Shrake Resistance Free ® Trainer/Instructor, she is certified by the American Riding Instructors Association (ARIA) and the International Society of Rider Biomechanics. She has more than 45 years horse showing experience in several different disciplines, as well as several years of fox hunting and open show judging experience. You could say she has been there and done that. 
  Studying saddle ergonomics started out as just another way for Terry to help her students however, it quickly took over her life when she discovered that her own horse, Easy had a condition called kissing spine which was likely caused by many years of riding in poor fitting saddles. "I can't go back and undo what I have done but I can spread the word about proper saddle fit to prevent other horses from needless suffering" says Terry. 
  Recognizing the huge need for proper saddle fit, Terry joined the Saddlefit 4 Life professionals and started the FIT RIGHT SADDLE SOLUTIONS. She passionately pursues her mission to educate as many riders as possible of the importance of proper saddle fit, how it affects the horse's performance, behavior and ultimately the health of horse and rider.    
  For riders searching for solutions, she proudly offers Thin Line shimmable saddle pads, Schleese dressage and hunt seat saddles and Specialized endurance, trail and western saddles.   All the saddles can be adapted to fit the horse as it develops or fitted to another horse by changing the tree width, angle and horizontal panel contact.  Terry recommends saddle fit evaluations every 6 months.  
  Saddle fit evaluations/consultations, lectures, adjustable saddle sales/service and riding lessons are available at Buck N Horse Hollow in Carlisle PA or within a 120 mile radius (south central Pennsylvania and northern Maryland areas)