Happy New Year! 
 Well, it sure is for me.  Thanks so much to our mailing list members that have reached out looking for their monthly newsletter. Long story short, I haven't been able to sit at my desk for 6 months, but now I am better and I am catching up.  
  Back in June, we finally settled on our farm in PA.  It was to be a bitter sweet weekend of packing up the last load from the farm and a Peiper family birthday dinner.   But, before I even had a chance to process the emotions of leaving Buck N Horse Hollow for good, I realized that somewhere along the line I had seriously injured my back.  The rest of June, July and August, I was not up to par, in fact I was at less than 50%.  My only relief was found when laying flat on the floor.  I have never gone so long without riding in my whole life!   It was not a good summer.  
  Thankfully, Larry finally made it to TN full time in August, which helped a lot and in September, he finished the new riding ring. Any sitting, standing, walking and riding was painful but I could not let this beautiful new ring alone. So, with the chiropractor's encouragement, I gave it a try.   I started with 1/2 hour rides and worked my way up.  It was still painful but so worth it.  Now, I can walk, ride and sit for an hour or 2.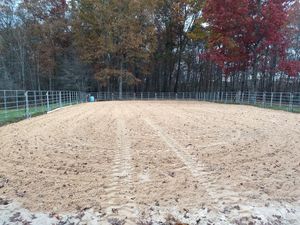 Thanking God everyday for my continued healing and good health, which I appreciate so much more now.
A STORY ABOUT 2 TRAINERS
  A couple year's ago I was doing a presentation at the Horse World Expo in PA.  I noticed a tall dark man taking notes during the presentation.  We will call him Trainer A.  After the presentation, he came back to the booth and asked me a few questions and took more notes.  He told me he was a clinician and that there was a rider in his presentation that had a poor fitting saddle and he was looking for some help explaining it to her.
  Another trainer, we'll call him Trainer B, I recently met had a horse in training that was having soundness issues.  I showed him how poorly the saddle was fitting. I explained how veterinarians have written books and documented cases where saddles that fit like this can cause painful permanent physical damage.  I am not making this stuff up!  It's not a line to sell saddles.  I sell saddles because finding saddles that fit is VERY HARD and our adjustable saddles make it easier.  
  Trainer B didn't feel that the saddle fit was important.  I can't even begin to express how upsetting this is to me.   I realize that I am a bit more obsessed with proper saddle fit than most, but I still cannot understand how a rider can climb on a horse knowing that the saddle is causing discomfort.  Trainer B is not alone.  Just last year at the Southern Equine Expo we heard a trainer doing a presentation in the big arena say almost exactly the same thing to a huge audience.  Sadly, these trainers are influencing riders and the horses are suffering as a result.
  Here are some personal questions to ask yourself.
    Which rider/trainer are you?
    What is your trainer telling you about saddle fit? 
    Does your trainer ride every horse in the same saddle?
    Is everyone in your barn riding in the same saddle because your trainer gets a commission from the manufacturer? 
    Have you been told that a special ABC, CBS, FBI, CBD saddle pad will fix a poor fitting saddle?
  You are your horse's advocate. God has trusted us with the stewardship of these beautiful animals.  For your horse's sake, please make sure your horse has a saddle that fits him so that he can do his job pain free.  There are many professional saddle fitters out there that have invested a lot of time and money to become certified saddle fitters or saddle ergonomists.  That is a story for another day. There are also people that say they know what fits and have had little or no saddle fitting training.   Please, check their credentials. 
  After the Expo in PA, I was curious so I looked up the tall dark handsome Trainer A.  His name is Nick Karazissis.  A webpage says this about him:
"Nick Karazissis is one of the most successful trainers on the west coast (that explains why I didn't know him and why he was so tanned) as well as the owner of the Far West Farms in Calabasas, CA.  The Far West Farms team is responsible for many "A" Pacific Coast Horse Show Association year end championships and is always consistent in its yearly wins and multiple placings in the medal finals.  Nick's consistent success in the show ring throughout the last 30 years has made him one of the most sought after judges and clinicians in the United States."
  Nick Karazissis thought saddle fit was important! Nick Karazississ is one of the top clinicians in the country!  Chances are pretty good that the trainers that are saying saddle fit doesn't matter are not as successful as Nick Karazississ.  I am just saying.
 
  Now, onto a completely different topic:  Christ Lammfelle Washing Instructions.  The manufacturer recommends machine wash and dry.  I know it is gross to put a dirty cinch in the washer and the noise is obnoxious when you put it in the dryer.  I wash mine off in a bucket before I put them in the washer.  Then, when they are finished washing it only takes a few minutes on a low setting to fluff the wool back up.  They come out like new.  Here is what the manufacturer says specifically:
  Thanks to the exclusive tanning process, all of our CHRIST sheepskin products can be washed in a standard washing machine.  Products with metal parts should be washed in a cloth bag.  Wash with wool wash or other delicate setting.  Use only CHRIST C7 special washing agents that has been created especially for our products. C7 is an environmentally freiendly washing concentrate that is very economical and goes a long way.  The addition of a softener helps to keep the leather supple.  Standard washing powders or wool detergents for textiles and wool are not suitable for washing sheepskin products as they extract important fats and tanning agents form the leather, making sheepskin hard and brittle.  
  When the wash cycle has finished you can spin dry your products and put it into a dryer set a max 100F.  The movement and warmth in the dryer is very advantageous, keeping your product soft and supple.  If you don't have a dryer you should dry your sheepskin in a fresh air but only in shady places.
  NEW IN 2020, All Christ & ThinLine Pads & Girths on our website = FREE SHIPPING


   Sam Papalimu and I am are looking forward to our third year at the Southern Equine Expo in Murfreesboro, TN on February 21, 22 & 23, 2020. 
  The spring saddle fitting class is here at the farm on March 14, 2020.  Here is some more info about our classes.  
  Also, I want everyone in TN and surrounding areas to know that we are doing saddle fit evaluations and saddle fittings here at the farm now.  There is a $50 discount if you haul in.  With the fantastic trail riding and campgrounds in Big South Fork, a lot of folks are hauling from surrounding states, getting their saddles fitted and spending the weekend.  
  Here is our registration form to sign up for a fitting or saddle fit evaluation.  

  As always, thank you for reading this eNewsletter, for sharing it with your friends and for helping me help the horses. I hope you have a very Blessed New Year! 
TTYS & God Bless,
Terry Peiper, Fit Right Saddle Solutions
"Spreading the word about saddle fit and how it affects our horse's behavior, performance and ultimately the health of horse and rider."
TPeiper@aol.com  (717) 609-2822
edit profile
unsubscribe