Terry Peiper, CSE
Saddlefit 4 Life Certified Saddle Ergonomist

"Spreading the word about saddle fit and how it affects our horse's behavior, performance and ultimately the health of horse and rider through saddle fit evaluations and lectures."January 2016

  You know the news; the blizzard, Trump vs. Cruz, Panthers vs. Broncos, now here's some of our story.   As everyone in our area was preparing for the storm of the century, we were faced with that horrible decision of when to let one of our horses go.  
Even though Shawna was not technically our horse, we cared for her as our own for over 20 years.   Sadly, when we returned from Florida last week, her pain was obvious to us.  She peacefully went to sleep and is buried in the tallest grass on the farm to prevent her from suffering any longer.
 Shawna was 25 years old. She had 1 eye removed because of painful recurring uveitis in 2000.  Having only 1 eye and 1 good leg, didn't slow her down until recently.  Her personality with people was the best. Although she could get excited at times, she was honest and absolutely safe for many many beginner riders.   Her relationship with other horses was not existent. She preferred it that way.  Her passion was eating, without a doubt the mare was all about food.  When she started to show no interest in eating, I knew it was time. 
 Our barn seems almost half empty now and we will all miss Dale's Friday morning visits with carrots.  Hopefully, she still comes but I can understand if she doesn't.    RIP Shawna, we will miss you.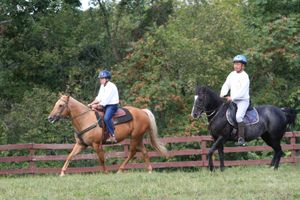 Dale and Shawna during one of her Friday morning lessons with Tony Kar
---
   The study of Equine Ergonomics helps us to optimize the well being and productivity of horse and rider. A Saddle Ergonomist interfaces a saddle between horse and rider.   Regardless of the chosen discipline or breed, all horses have a saddle support area. All horses have a delicate shoulder cartilage, spinal ligament and lumbar vertebrae that need to be protected from pressure.

  All riders have a pelvis, hips, knees and soft tissue parts that need to be protected.  I encourage all riders to learn all they can about how saddle fit affects their horses behavior, performance and ultimately the health of horse and rider.    
  There are numerous resources available besides our articles and saddle fit evaluations.  There are online articles, blogs, Amazon books & videos and if you still want more (this is what happened to me) Saddlefit 4 Life training courses.
 Saddlefit 4 Life® is a global network of professionals dedicated to protecting horse and rider from long-term damage caused by ill- fitting saddles and tack. We strive to improve the health and well-being of horses and riders through saddle fitting education, comprehensive saddle fit diagnostic analysis and by providing opportunities for professional training.
 We need trainers, vets, judges, club leaders and all riders to learn more about saddle fit. We need western riders, hunter jumpers, trail riders, endurance riders and dressage riders to consider how their saddle affects their horses and prevent needless suffering.   Doesn't your horse deserve it?  

  And if you want a rewarding career helping the horses, look into the Saddlefit 4 Life training courses.  However, I have to warn you that this information can be painful to swallow for horse lovers that have been riding in saddles for years.  You don't know what you don't know and once you find out, you can't go back.  
---
I noticed that Dr. Deb Bennett's article titled Timing and Rate of Skeletal Maturation in Horses has popped up again on Facebook.  Being a snow day, I reread the article.  In the article she emphasizes the need for maturity before working horses too hard under saddle.   She says that no horse type matures faster than another and that growth plates convert from cartilage to bone from the ground up.

 Somewhere came the thought that when the knee closed the horse can be ridden. That happens generally by 2 1/2 years of age but what about the rest of the horse? She notes in her article that the growth plates in between the vertebrae are not finished developing until between 5-6 years of age.  Dr. Robson says in her book Recognizing a Horse in Pain and What You Can Do About It that the bone density has not developed until 6 years of age.    What happens if the back is not strong enough to support the weight of the rider and saddle?
Sore backs
Hock & stifle damage
Ligament damage
Sacrale & pelvis damage
Navicular & soft tissue damage
Kissing spines 
Training issues like trouble engaging or coming round
   Over the years, there has been much discussion and controversy about training 2 & 3  year olds, futurities, racing and jumping horse too young.  How interesting that Dr. Bennett said in her article published first time 15 years ago, that we are more likely to damage the horses back than the legs by riding them at an early age.  If your horse is hurting, please take a look at his training and/or saddle and see if it can be prevented.  As always, thank you for reading our newsletter and for all the referrals.  I sincerely appreciate the compliment but mostly thank you for helping me help the horses.   Stay warm and safe!TTYS
TerryTerry Peiper, CSE
Saddlefit 4 Life Certified Saddle Ergonomist
Fit Right Saddle Solutions
Terry Peiper has been "Helping Horses With Their People" in south central PA for over 35 years by training horses and riders.  In addition to being an accredited Richard Shrake Resistance Free ® Trainer/Instructor, she is certified by the American Riding Instructors Association (ARIA) and the International Society of Rider Biomechanics. She has more than 45 years horse showing experience in several different disciplines, as well as several years of fox hunting and open show judging experience. You could say she has been there and done that.
Studying saddle ergonomics started out as just another way for Terry to help her students however, it quickly took over her life when she discovered that her own horse, Easy had a condition called kissing spine which was likely caused by many years of riding in poor fitting saddles. "I can't go back and undo what I have done but I can spread the word about proper saddle fit to prevent other horses from needless suffering" says Terry.  Recognizing the huge need for proper saddle fit, Terry joined the Saddlefit 4 Life professionals and started the FIT RIGHT SADDLE SOLUTIONS. She passionately pursues her mission to educate as many riders as possible of the importance of proper saddle fit, how it affects the horse's performance, behavior and ultimately the health of horse and rider.   

  For riders searching for solutions, she proudly offers Christ Sheepskin saddle pads and girths, 
Thin Line
shimmable saddle pads, Schleese Saddlery dressage and hunt seat saddles, Specialized Saddlery endurance and trail saddles and
TW
Saddlery western saddles.   All the saddles can be adapted to fit the horse as it develops or fitted to another horse by changing the tree width, angle and horizontal panel contact.  Terry recommends saddle fit evaluations every 6 months. 
  Saddle fit evaluations/consultations, lectures, adjustable saddle sales/service and riding lessons are available at Buck N Horse Hollow in Carlisle PA or within a 120 mile radius (south central Pennsylvania and northern Maryland areas)