January 2015 
Hello and Happy Winter!   What a great time to regroup, reread and gather new information to share with you at evaluations and lectures.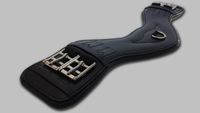 This month, I would like to share with you a recent question about contoured girths.  
  Hi Kat!   Thanks so much for asking my opinion of the shoulder relief girth you saw advertised on Facebook.  I love questions, because it gives me an opportunity to share the information I have learned. It looks like a nice girth.  The elbow relief  allows the horse to extend the front leg without interference near the elbow.  Our girths have that too.  Leather behind the buckles adds to the horse's comfort. Our girths have that too.   Elastic on both sides for equal distribution of pressure is good. Our girths have that too.   
  Calf skin leather sounds nice and soft.   Leather is natural and we see a lot less irritation when we use natural products like leather, cotton, wool, alpaca and mohair against our horses.   It is an inexpensive girth so, I wonder if it is tanned with chemicals. I know that one of the reasons our girths are a little bit more expensive is because vegetable tanning cost more than tanning with chemicals.
  The design is nice too.  In fact, Great Britain's "secret weapon" in the last Olympics was a Fairfax girth with the same design.     
 These are all nice girths and it is true, I have seen saddles that seem to fit as good as humanly possible still slip forward because of the conformation or movement of the horse.  So, in some cases after I have done a complete evaluation to add to the horse's comfort, I recommend contoured or wide at the bottom girths.  
  There are several reasons why saddles slide forward
that should be considered
before purchasing a girth or a sticky pad to fix it.  
  First, are 
the billets too far back? 
 A contoured girth may be able to help if that is the only thing that is wrong.   Are we using the wrong billets?  Generally, the point billet should be used when the horse doesn't have enough shoulder muscle to hold the saddle back.   

Our 
Schleese dressage saddle
s
have an adjustable billet  system allowing us to bring the rear billet forward into the girth area while allowing the saddle to stay behind the shoulder.  A special cut out in the vertical panel next to the top of the shoulder (we call it shoulder relief) gives the horse more room for the shoulder to rotate while moving.
 Is the tree too wide?  Is the tree angle too wide?  Are the panels overfull?  Is one shoulder more forward?
  If the tree width and angle has been adjusted to match the horse there will be no shoulder interference.   If the billets are in the correct place a straight girth would provide the equal and correct pressure on the tree to keep the saddle in place.   If there is too much wool in the center of the saddle or if the panel shape does not match the horse, it could slide around or forward.   If one shoulder is more forward, that side may need to have the billets crossed while the other side stays normal. 
 Is the saddle too long? 
  Forcing a saddle to stay back with a special girth in this case could cause more harm than good.  I am especially sensitive to this area because my horse was ridden in saddles that were too long and he has horrible kissing spines or arthritis in his back.    Keeping Easy comfortable is not only time consuming and expensive, but it is heart breaking.  Actually, it is what drives me to spread the 
word about proper saddle fit and how it effects our horse's behavior, performance and ultimately the health of horse and rider.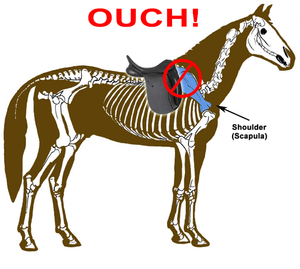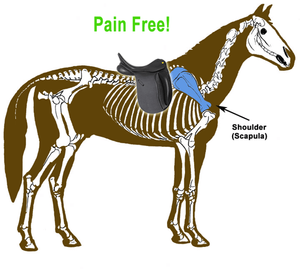 The saddle that they say is Pain Free on their website, may be pain free on the shoulder but it is dangerously close to putting the riders weight on the first lumbar vertebra, which will cause the horse to tighten or contract the back muscles.  This is the opposite of what we want!  Tight back muscles cause problems like spooking, kissing spines, lameness, damage SI joint, damage spinal ligament, hunters bump, need for chiropractic, muscle relaxers, calming supplements and the list goes on and on.  
  When I am riding, I want my center to be over the horse's center, not behind the motion.  I know all 3 of my horses much prefer to have my weight at the base of the withers and not back towards the lumbar vertebrae. The horse in the picture might need a saddle with a shorter pommel or a shorter panel. 
  So please, make sure your saddle fits in all other areas.  Girths and saddle pads can definitely help or hurt the fit of the saddle.  We need to be careful that we are not treating a symptom of an even bigger problem that can over time cause long term permanent damage. 
  Thanks for the question Kat!
PA Horse World Expo
 Since my mare, Fancy is due to foal the week of the Expo, we won't have a booth this year.  But I will be doing these lectures at the Expo. 
 Equine Anatomy Relative to Saddle Fit    Friday, March 6 at 3 pm, Seminar Hall B

Saddle Fit Issues-Is Your Saddle Helping or Hurting?   Saturday, March 7 at Noon, Seminar Hall B
  As always, thank you for reading and sharing the eNewsletters, all the referrals and all you do to help me help the horses.   I sincerely appreciate each and every one.
TTYS
Terry
Terry Peiper
Fit Right Saddle Solutions
Buck N Horse Hollow
6 Buck Dr.
Carlisle PA 17015
(717) 609-2822
​Past  eNewsletters
  Terry Peiper has been 
"Helping Horses With Their People"
 in south central PA for over 30 years by training horses and riders.  In addition to being an accredited Richard Shrake Resistance Free ® Trainer/Instructor, she is certified by the American Riding Instructors Association (ARIA) and the International Society of Rider Biomechanics. She has more than 45 years horse showing experience in several different disciplines, as well as several years of fox hunting and open show judging experience. You could say she has 
been there and done that
.
  Studying saddle ergonomics started out as just another way for Terry to help her students however, it quickly took over her life when she discovered that her own horse, Easy had a condition called kissing spine which was likely caused by many years of riding in poor fitting saddles. "I can't go back and undo what I have done but I can spread the word about proper saddle fit to prevent other horses from needless suffering" says Terry.
  Recognizing the huge need for proper saddle fit, Terry joined the Saddlefit 4 Life professionals and started the FIT RIGHT SADDLE SOLUTIONS. She passionately pursues her mission to educate as many riders as possible of the importance of proper saddle fit, how it affects the horse's performance, behavior and ultimately the health of horse and rider.   
  For riders searching for solutions, she proudly offers
Thin Line shimmable
saddle pads, 
Schleese
dressage and hunt seat saddles and 
Specialized
 endurance, trail and western saddles.   All the saddles can be adapted to fit the horse as it develops or fitted to another horse by changing the tree width, angle and horizontal panel contact.  Terry recommends saddle fit evaluations every 6 months. 
  Saddle fit evaluations/consultations, lectures, adjustable saddle sales/service and riding lessons are available at Buck N Horse Hollow in Carlisle PA or within a 120 mile radius (south central Pennsylvania and northern Maryland areas)