Happy Almost Spring! 
  I am sure it is right around the corner and everyone is going to be crazy busy so I encourage you to schedule your saddle fit evaluation and fittings now.  My March and April schedule is filling up fast.

  Last summer, I reminded everyone in the email newsletter 

(August 2013

) that saddles should be evaluated and refitted no less than once a year, sometimes twice a year is better.    Don't wait until there is a problem, schedule a checkup. Here's the link 

SADDLE FITTING AND EVALUATION REGISTRATION.

 
  Super Savings Special started September 2013 is still in effect
Haul in to Buck N Horse Hollow for $50 off the evaluation fee
  I also want to follow up on last months email newsletter 

(January 2014)

 about adjustable saddles. Schleese jump and dressage saddles have a special

 Adaptree 

that gives a Schleese Representative the flexibility to change the width, the angle, the horizontal contact with flocking and the billet configuration equally or on each side independently for the asymmetrical horse.

 The adjustments are made on site at your fitting so that you don't have to go without your saddle.   A Schleese saddle can easily be changed from the width of a draft horse to the width of a narrow high wither Thoroughbred.  I also added some pros and cons on buying a used Schleese Saddle on the website article page. 

 Buying a Used or New Schleese 

Pros and Cons Article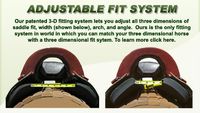 The Specialized Saddles and the TW Saddles are western, trail and endurance type saddles that are adjustable with shims and cushions that attach right to the bars of the tree.  The width, angle and arc of the saddle can easily be changed again on site.  
 
 Several Schleese, Specialized and TW demo saddles are available to try at your evaluation.  A 10 day trial and 100% money back guarantee is given with every saddle.  If you were thinking about purchasing a new saddle I encourage you to get on the schedule.  New saddle orders right now are taking 3-4 months.
 I know everyone is anxious to get back in the saddle as soon as the snow melts and the sun comes out and warms things up.  Please remember, as you start riding your horses again after the winter break, he is out of shape and needs several weeks to get back in shape before he can do the riding he was doing last fall.   For fresh horses, if in doubt lunge.  
  Tired horses are more susceptible to injury. 
Let's keep spring a happy time. 
Limit the grass intake and bring your horse back to work gradually. 
  Next week, we will be at the PA Horse World Expo Booth #419, same as before.  Lectures in Seminar Hall A & B on Saturday and Sunday afternoon.  Looking forward to seeing everyone at the show!!  As always, thank you for letting me be a part of your riding goals and helping me with my mission to spread the word about the importance of proper saddle fit.

TTYS & God Bless
Terry Peiper
FIT RIGHT SADDLE SOLUTIONS

Saddlefit 4 Life Certified Saddle Ergonomist
Authorized Schleese Saddlery, Thin Line, Specialized Saddles & TW Saddlery Representative
ARIA, ISRB & Richard Shrake Certified Instructor
Specializing in "Helping Horses with Their People" for over 30 years.

BUCK N HORSE HOLLOW
6 Buck Dr. Carlisle PA 17015
717-240-0723 cell 717-609-2822



www.FITRIGHTSADDLESOLUTIONS.com




Terry Peiper has been "Helping Horses With Their People" in south central PA for over 30 years as an accredited Richard Shrake Resistance Free ® Trainer/Instructor and certified American Riding Instructors Association (ARIA) Instructor. She has more than 45 years horse showing experience in several different disciplines ranging from hunt seat, halter, stock seat, barrel racing, dressage and side-saddle, as well as several years of fox hunting, hunter paces and open show judging experience. You could say she has been there and done that.

Studying saddle ergonomics started out as just another way for Terry to help her students however, it quickly took over her life when she discovered that her own horse, Easy had a condition called kissing spine which was likely caused by many years of riding in poor fitting saddles. "I can't go back and undo what I have done but I can spread the word about proper saddle fit to prevent other horses from needless suffering" says Terry.

Recognizing the huge need for proper saddle fit, Terry joined the Saddlefit 4 Life professionals and started the FIT RIGHT SADDLE SOLUTIONS. She passionately pursues her mission to educate as many riders as possible of the importance of proper saddle fit, how it effects the horse's performance, behavior and ultimately horse and rider health through lectures and saddle fit evaluation/consultations in the south central Pennsylvania and northern Maryland area.