Easy Does It

  If I would have only known then what I know now.  How many times have we heard or thought that?  In this case, the real problem is, I am not the one that suffered because of my lack of knowledge.  You don't know what you don't know.  But I know now and that is what motivates me every day to spread the word about proper saddle fit and how it affects our horse's behavior, performance and ultimately the health of the horse and rider. 

  Even with over 35 years of "Helping Horses with Their People" through training horses, lessons and clinics, being American Riding Instructor Association certified, International Society of Rider Biomechanics certified and Richard Shrake Resistance Free Accredited Trainer/Instructor, I did not know what I didn't know.   

  It Was Love at First Ride

  It was January 25, 1998 in Lexington, Virginia at the Jennings Horse Sale.  We had actually been looking for Easy's stable mate as a barrel racing prospect when I first saw him.  A few seconds later I was in the saddle trotting, loping, then stopped in the middle of the large warm up pen.  I was in love in less than 5 minutes!  There was no doubt about it, I was positive right from the start I wanted this horse. 

  Easy, also known as Terry's favorite, is a dark chestnut by the NHRA Hall of Fame Reining Horse, Streetwisenterprise.  His long stride and athletic ability made him an excellent barrel racing prospect.  He ran barrels and poles successfully for several years and was also a great lesson horse.   In 2000, he won his first NBHA championship saddle.  In 2006, he won another NBHA championship saddle and also started doing low level dressage.   But Easy was showing signs of lameness.  He was sometimes off in the front, sometimes off in the back.  The vet diagnosed him with ring bone and bog spavins.  The usual recommended treatments of injections, bute and Adequan did not really help, so at age 12, Easy was retired.

  In November of 2009, I heard Jochen Schleese speak at the American Riding Instructors Convention in Naples, Florida.  I instantly became addicted to learning more about how the saddles were affecting my students' and our horses.   Over the next year, I witnessed numerous miraculous transformations.   I saw horses that were lame become sound.  I saw horses that were crazy out of control become rideable.  I saw horses that are hollow backed, cranky and stiff become soft supple and round.  I saw girthy, biting horses become calm and happy during saddling.  The more I saw and learned the more I wanted to learn.  

  So in February 2011, when some friends suggested we go to the Saddlefit 4 Life training in Florida, I didn't even hesitate, I was definitely going.  Just a few weeks later, I was sitting beside Jane Savoie in Jochen's Schleese's Saddlefit 4 Life class in Wellington, Florida.  I will never forget it.  It was Thursday morning the 3rd day of training.  The topic was wither clearance and how triggering cranial nerve 11 on the sides of the withers could cause a horse to involuntarily hollow the back, rotate the pelvis leaving haunches out behind and dragging the toes.  When he said the words, "dragging the toes" I got chills.  I still get chills.
  I knew there had to be 3 fingers clearance on the top of the withers but I did not know that there also had to be clearance all the way around the withers and I was in very good company in this class.  You don't know what you don't know.

  Dragging the toes was like an alarm that kept going off in my head.  Easy always had that problem and no one and nothing had ever been able to help it.  He was easy to flex into the bridle and he did not seem to have a hollow back but he definitely did always drag his toes.   I couldn't stop thinking, what if Easy's lameness was caused by his saddle?  What if I could ride my horse again? 
  When the haunches are out behind, it strains the hocks and stifles because they are not meant to work that way, the horse appears to be off or sore in the stifle or hock. This will eventually cause arthritis or bog spavins, inflammation and basically "hock issues."  There was another alarm going off.   Then he said when the muscle tightens it causes crowding of the dorsal spinous processes and/or transverse processes also known as, kissing spines and how closely related it is to hock lameness.   Now, the chills have turned to a sick feeling in my stomach.

  I couldn't wait to get home, even though the temperature was literally 60 degrees colder in Pennsylvania then it was in Florida, my focus was on getting Easy's back x-rayed.  I took him to a vet that did not know Easy or anything about my saddle fit training.  The diagnosis was significant kissing spines.  His back x-rays looked horrible.  He had 3 areas that had calcified. The prescribed treatment was shock wave treatment and to ride him lightly with a saddle that is not too long, ride long and low and canter to warm up.   A month later, I had Jochen Schleese fit a saddle for him and a few months after that he went to a dressage show.    I had my favorite horse back!   I lost 5 years but with a saddle that fit, I was able to enjoy riding him for almost another 5 years.
 Unfortunately, kissing spines is long term painful permanent damage.  Easy is retired now at our farm in Tennessee.  I can't go back and undo what has happened to Easy but I can do my very best to prevent other horses from needless suffering by spreading the word about proper saddle fit and how it affects our horse's behavior, performance and ultimately the health of horse and rider.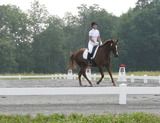 June 2011,  after 5 years of "retirement"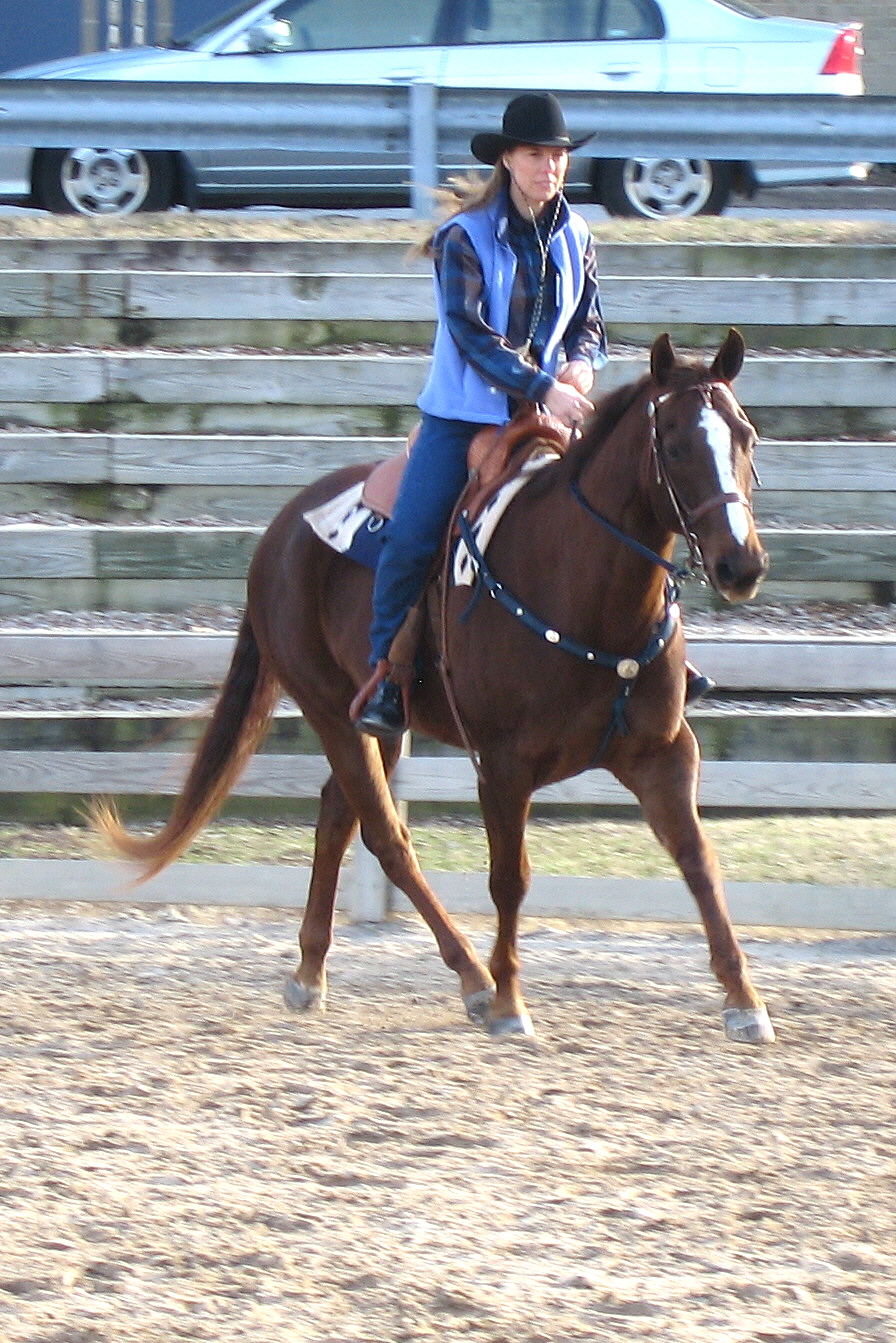 Horse World Expo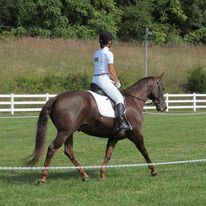 Twin Brooks Dressage Show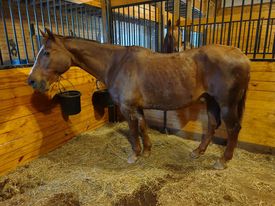 May 1, 2023   29 years old

 
Special thanks to
Larry Peiper,
Dr. Michael Odian,
Micki Lentvorsky and
Colleen McCallus
for all your help and support.