August 2015
Terry Peiper, CSE
Saddlefit 4 Life Certified Saddle Ergonomist

"Spreading the word about proper saddle fit and how it affects our horse's behavior, performance and ultimately the health of horse and rider through saddle fit evaluations and lectures."

Hello,

  I hope this newsletter finds you and your horses doing well.  In this months newsletter, I want to thank the Professional Association of Therapeutic Horsemanship International for inviting me to be a speaker at their annual conference this weekend  in State College.   It is so exciting for me to think of how many horses we can reach through 130 instructors.  I love it!

  I also want to share a little history.    In the summer of 1980, I trained and showed a horse for a real client (not just my Mom).   The horse was Major,  a 3 year old Appaloosa gelding.    The payment was all showing expenses were paid  and an Australian Shepherd puppy.  That puppy was the first of 5 Australian Shepherds for me and T's 27 puppies.  And that horse quickly lead to more horses and lessons at Barlow Knoll Stables in Gettysburg as soon as I was old enough to drive.   So the slogan has slightly changed "Helping Horse with Their People" for over 35 years now, as I turned 50 on August 3. 



  Last but certainly not least,  I want to explain why we never want to use a lollipop pad.  I thought these pads were "out of style" and not being used anymore but one popped up so I want to explain.   

   Shaded in blue below is the ligament that attaches to all the vertebrae.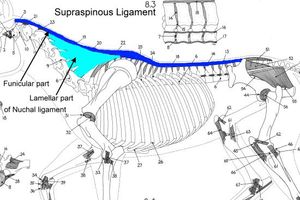 The nuchal and supraspinous ligament pull on the withers when the neck is lowered acting as a fulcrum,  lifting the back.  It is what allows the horse to be "round."  The ligament  is usually 4-5 fingers wide, never 2 fingers wide.  Sadly, I still see a lot of English channels with 2 finger wide channels.

   The channel of your saddle needs to be wide enough to bridge over the ligament and protect it from the weight of the rider as the horse moves and especially as he bends.    

Here is a video from Jochen Schleese demonstrating how we find the width of the supraspinous ligament.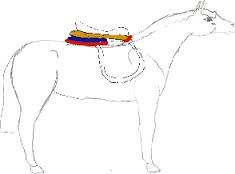 A lollipop pad basically fills in all the space putting painful pressure on the ligament and vertebral spinous processes, lifts the back of the saddle and drives the tree points right down into the horse.  

   Here are 2 typical English saddle trees.   The one on the left is what we see in the old Wintecs and the one on the right is a typical wood with spring steel tree.  Neither one has friendly tree points even if the tree width and angle matches the horse perfectly. That is why the Schleese trees have longer tree points curved back away from the shoulder.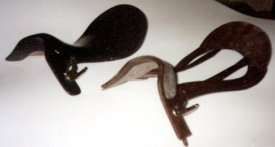 Please make sure your saddle fits your horse.  They really don't ask for much for all they give us.  Grass and equipment that allows him to do their job without being in pain.  Don't you at least owe them that much?

  As always, thank you for reading and sharing the newsletter.  Happy Fall Riding!!

TTYS & God Bless!
Terry

Terry Peiper, CSE
Saddlefit 4 Life Certified Saddle Ergonomist



Fit Right Saddle Solutions





Click here for our past Newsletters

 

                                         

  

 
Terry Peiper has been "Helping Horses With Their People" in south central PA for over 30 years by training horses and riders.  In addition to being an accredited Richard Shrake Resistance Free ® Trainer/Instructor, she is certified by the American Riding Instructors Association (ARIA) and the International Society of Rider Biomechanics. She has more than 45 years horse showing experience in several different disciplines, as well as several years of fox hunting and open show judging experience. You could say she has been there and done that.

  Studying saddle ergonomics started out as just another way for Terry to help her students however, it quickly took over her life when she discovered that her own horse, Easy had a condition called kissing spine which was likely caused by many years of riding in poor fitting saddles. "I can't go back and undo what I have done but I can spread the word about proper saddle fit to prevent other horses from needless suffering" says Terry.

  Recognizing the huge need for proper saddle fit, Terry joined the Saddlefit 4 Life professionals and started the FIT RIGHT SADDLE SOLUTIONS. She passionately pursues her mission to educate as many riders as possible of the importance of proper saddle fit, how it affects the horse's performance, behavior and ultimately the health of horse and rider.   

  For riders searching for solutions, she proudly offers Thin Line shimmable saddle pads, Schleese dressage and hunt seat saddles and 

Specialized

 endurance, trail and western saddles.   All the saddles can be adapted to fit the horse as it develops or fitted to another horse by changing the tree width, angle and horizontal panel contact.  Terry recommends saddle fit evaluations every 6 months. 

  Saddle fit evaluations/consultations, lectures, adjustable saddle sales/service and riding lessons are available at Buck N Horse Hollow in Carlisle PA or within a 120 mile radius (south central Pennsylvania and northern Maryland areas)