July enewsletter

Missing one July enewsletter! So sorry, that I missed the July enewsletter. Our trip to Colorado and the Saddlefit 4 Life recertification in Canada made July a very busy month for me.

The greatest compliment paid me is a referral. I am so grateful to everyone that has forwarded my emails, handed out business cards, sent in testimonials and liked us on Facebook. Thank you for telling your friends about FIT RIGHT SADDLE SOLUTIONS and my mission to spread the word about proper saddle fit and how it effects our horse's behavior, performance and ultimately the health of horse and rider. It's working ! The word is getting out there and riders are now starting to realize that the days of "one saddle fits all" are in the past.

Horses change shape, so saddles also need to change, but buyers beware!

The other day I received a saddle fit evaluation registration form that listed a saddle that I had never heard of, so I Googled it. The very first line of the description on the website said that it was an adjustable saddle. I looked and looked to see how it was adjustable but I never found anything. Buyer beware.

Last winter, I went to a trade show and spoke with several saddle manufacturers about their saddles adjustability and this is what some of them told me.
Tree can be heated on a machine and changed shape. These saddles need to be shipped to a service facility and kept on the heating machine for 12 hours. The funny thing is that company even admitted to me that they had no service Reps or facilities in the US.
Tree can be adjusted by a fitter wider or narrower (27cm-38cm) this is a nice big range but one saddle maker told me that their range was more like 1cm. Buyers beware!
Tree can "easily" (I am not saying it is easy, they said it was easy) be adjusted by turning a key to preset gullet widths or by changing a color gullet plate. This could work if your horse's shoulder angle and width matches one of those colors but what if your horse is the width of one color and the angle of another color? My horse is.
Saddle self adjusts while riding the horse. If we could get saddles to fit that way, why would all these other manufacturers and fitter be going to the trouble of fitting saddles.
See Define Adjustability in the January enewletter for the rest of that story.

The Schleese saddles I have can be adapted to the width of the horse, the angle of the shoulders (even or uneven), allow the billets to be adjusted to the proper position for the horse and the horizontal panel contact can be adjusted with wool flocking to ensure an even weight distribution to ensure a proper fit and prevent damage to the horse.

The Specialized and TW saddles I have can be adapted to the width of the horse, the angle of the shoulders (even or uneven) and the horizontal panel contact with cushions and shims attached directly onto the tree to ensure a proper fit preventing damage to the horse. Some saddles have no adjustability at all; these companies admittedly want the consumer to buy another saddle instead of refitting the current one. Today's consumers are too smart for that. They know that investing in a saddle that is adjustable will save them money in the long run by preventing damage and costly medical bills not to mention training and performance issues.
This year I have noticed several times that too much time had passed in between fittings. My bad, I should have emphasized more the importance of regular fittings.

I have seen some muscle atrophy and lamenesses that have came on so gradually it was not noticed. I have seen some riders with uneven stirrups, sitting unevenly and some horses that used to be uneven, now have become straight but the rider is now uneven. Please don't wait until you have a problem to schedule.


​USED SADDLES FOR SALE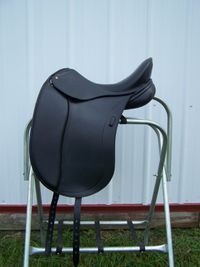 This is just one of the really nice barely used saddles we have available.

LIKE NEW !!!

Schleese Wave 17.5 " #3 Tree #2 Panel with relief wedge.

$4,895



As always, thank you for taking the time to read our enewsletter and for giving me the opportunity to help the horses.

TTYS & God Bless
Terry Peiper
FIT RIGHT SADDLE SOLUTIONS

Saddlefit 4 Life Certified Saddle Ergonomist
Authorized Schleese Saddlery, Thin Line, Specialized Saddles & TW Saddlery Representative
ARIA, ISRB & Richard Shrake Certified Instructor
Specializing in "Helping Horses with Their People" for over 30 years.

BUCK N HORSE HOLLOW
6 Buck Dr. Carlisle PA 17015
717-240-0723 cell 717-609-2822

www.FITRIGHTSADDLESOLUTIONS.com


Terry Peiper has been "Helping Horses With Their People" in south central PA for over 30 years as an accredited Richard Shrake Resistance Free ® Trainer/Instructor and certified American Riding Instructors Association (ARIA) Instructor. She has more than 45 years horse showing experience in several different disciplines ranging from hunt seat, halter, stock seat, barrel racing, dressage and side-saddle, as well as several years of fox hunting, hunter paces and open show judging experience. You could say she has been there and done that.

Studying saddle ergonomics started out as just another way for Terry to help her students however, it quickly took over her life when she discovered that her own horse, Easy had a condition called kissing spine which was likely caused by many years of riding in poor fitting saddles. "I can't go back and undo what I have done but I can spread the word about proper saddle fit to prevent other horses from needless suffering" says Terry.

Recognizing the huge need for proper saddle fit, Terry joined the Saddlefit 4 Life professionals and started the FIT RIGHT SADDLE SOLUTIONS. She passionately pursues her mission to educate as many riders as possible of the importance of proper saddle fit, how it affects the horse's performance, behavior and ultimately horse and rider health through lectures and saddle fit evaluation/consultations in the south central Pennsylvania and northern Maryland area.