April 2023
  Happy Spring!  I hope this enewsletter finds you and yours doing well.  And I hope you have been enjoying this great riding weather.  I know we need the rain but it sure has been nice out lately.
  Larry's new hip is almost all better. It was definitely not an easy month for him but he has been good (mostly) and is showing much improvement.  Next week he gets to drive so my chauffeur days are about over. The good side of driving Larry to physical therapy 3 times a week has been lots of lunches together and I rode Annie almost every morning before we left.  
This month in the news:
WDAA Western Saddle - Is It Legal or Not
  Back in January, a Facebook post regarding saddles stirred up a huge discussion about whether or not to allow the non typical saddles in competition. Thankfully, after a membership survey the WDAA decided to continue to allow them at the shows. I didn't realize how popular they were until there was talk of not allowing them.
  I showed my mare most of last year in western dressage.  I love it because to me western dressage is more classical then regular (english) dressage. Moving up the levels is a measurable attainable goal that motivates me to practice when it is easier to not ride. The score sheets give me feed back on how I am doing with my training.  And the people and prizes make it all lots of fun. The purpose of classical dressage is to build the horse up mentally and physically so they last a long time.  You have to be in love with the process, which I am.  It is all about the journey.  
  I like rules and I like everyone to follow the rules.  I know that is not very real life but it's my story.  Regarding saddles, the WDAA rules say western stock type saddle.
WD 121.6. Saddle:
A standard American Western stock saddle with swells, a seat, cantle, skirt, fenders, and Western stirrups
is required. A working Western side saddle is also acceptable.
a. Optional and permitted features may include:
1. Horn
2. Padding or pads on the seat of saddle
3. Bucking rolls
4. Tapaderos, except in Western Dressage Equitation

 
  So,when I first started showing I used my old favorite, the TW Saddlery Classic Wade because it is a real western saddle. It was Easy's saddle, then Nicholas' and now Annie & Doc.  Talk about the importance of adjustability. (TW Saddles adjust with the 3-D Fitting system)  But, I am not the only one that rides different horses over the course of 10+ years.  (The picture on top is Annie in my old TW Classic Wade)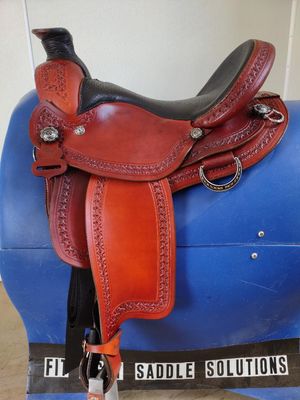 TW Saddlery Classic Wade
  After a few shows, I changed her over to a new black TW Classic Wade which was super pretty.  To me, the Classic Wade has the narrowest twist of all the TW Saddles.  A lot of riders that rode english like the narrower twist in the western saddle.  It is super easy to adjust with the cushions & shims and for a traditional western saddle it is a pretty light 23lbs.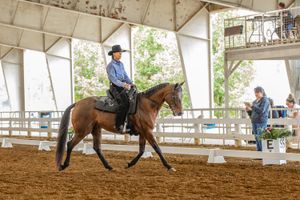 Annie with the new TW Classic Wade
  Then last summer I realized that Annie was "easier" to ride in the DP Quantum western dressage short & light saddle. I went back & forth and back & forth but there is no denying it, she likes it better.  Her shoulders were a little freer, it was easier to turn & the transitions were a little crisper.  Maybe she likes that it is shorter & lighter, maybe she likes the wool flocked panels?  Maybe she could care less either way about the saddle but she is more responsive to my leg because of the position it puts me in?  Or maybe it is a combination of all of the above.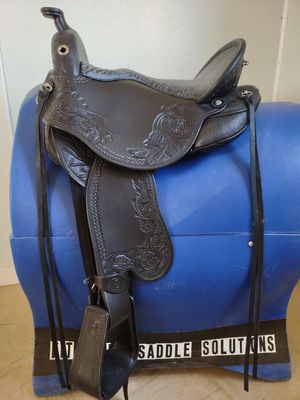 DP Saddlery Quantum Western Dressage Short & Light
  I still wasn't thinking I could show in it because the DP Quantum is not a standard American Western stock type saddle until a friend/DP Representative/western dressage rider & instructor told me they were allowed. It is a western looking english saddle.  It has an english tree, wool flocked panels, english billets & stirrup bars set further back.  It adjusts narrow or wider (which is super easy) with the allen wrench, it is light weight, has a super narrow twist or wider if you don't like super narrow.  Like most english saddles vs western, it is shorter which is a huge plus for so many short backed horses and/or sensitive girls like mine.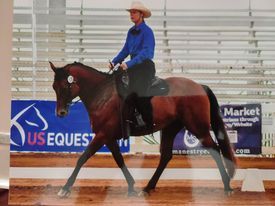 Annie with the DP Quantum WD S & L
  I haven't decided which to use this year.  Maybe I will keep both saddles and get a different horse.  That is a story for another day.
YOUR SADDLE SHOULD BE CHECKED EVERY 6 MONTHS
  The text book says that the saddle fit should be checked by the fitter once a year.  But, I have seen huge changes in our horses and some damage in a year's time so I tell everyone to have the saddle checked every 6 months.  I am guilty of strectching my 6 month appointments to 8-10 months.  I know how it is but stretching a year into 18 or 24 months can get a horse and/or rider hurt.
   The other day I met with a rider that has a beautiful TN Walking Horse. She has a Specialized Eurolight saddle which is of course very adjustable. Her last fitting was almost 2 years ago. I know how it is, I have let some things go longer then I should have.  Her horse has increased in girth circumference 7" since the saddle was purchased in 2020. That is the biggest increase I have seen since I started measuring horses 13 years ago, so I know a little extreme, but it made me think.  I need to remind everyone to have their saddle check every 6 months.  She scheduled because the saddle was slipping.  Needless to say it was perched up on top and sliding all over, thankfully she has good balance, followed her instincts and called for a fitting.
Next trip to
Oak Mt. Park in Birmingham
 May 16 & 17
Jessie's Run in Harrison, TN
May 3 & 8
SPECIALIZED & TW SADDLE PRICE INCREASE
  Sadly the price of everything is going up.  The manufacturers have no choice but to pass the expenses on to the consumers.  The TW Saddles increase is basically $300 and the Specialized Saddles is $200.  
  There is still time to beat the increase because all of my current inventory was purchased before the increase so they are still available at the old prices. The good news is the wait time for new Specialized & TW Saddles right now is 4-6 weeks.  That is not long at all for a new saddle.
  As always, thank you for reading and sharing the enewsletter.  Your referrals are also sincerely appreciated.  
TTYS & God Bless,
Terry Peiper, Fit Right Saddle Solutions
"Spreading the word about proper saddle fit and how it affects the horse's performance, behavior and ultimately the health of horse & rider."