May 2017

I hope this email finds you and yours well.  I am still in the process of moving to TN, cleaning up, packing, unpacking, mowing, mowing and mowing. Hopefully, all goes well, the horses and I will be in TN full time in August.  That is the goal.

Up to this point, I have kept quiet about Schleese and the real reasons why I left but after feeling the frustration of numerous Schleese customers these past few months, I feel like I need to explain and apologize.

My clients are my friends and I am responsible for bringing Schleese into many of their lives and now they are regretting that involvement. This is very upsetting to me. I tried to make sure they would have a local Rep to service their saddles but, Schleese wouldn't allow it. The only way to get your Schleese saddle adjusted is to go through the Schleese head office in Canada, unless you are lucky enough to be in an area that Kara or Terri Anne service.  

Here is the contact info for all the other Reps.  
I knew moving to TN was coming sooner or later for Larry and I, but I could not leave my clients/horses without someone to take care of their saddles. For the past couple of years, my goal has been to find someone to take over for me. I hoped it would be my Assistant but that didn't work out.   Meanwhile, I met Karen.

Karen was a perfect candidate in many ways. She attended the Saddlefit 4 Life training with Jochen in Florida and became a Certified Equine Ergonomist. That is the first step in becoming a Schleese Rep.

Angela was in a totally different area and I thought she was another perfect candidate. But, when Angela inquired with Saddlefit 4 Life, we were both notified that Schleese would not be certifying any more Independent Reps like me. All service would be handled through the existing Reps or the head office in Canada.
I was so mad I could spit nails. I was the one that encouraged Karen to spend her money and time training with Schleese/Saddlefit 4 Life, then they changed the rules while she was in the middle of it. This is not what I was told when I started with Schleese 6 years ago. They told me that they knew there was no way they could provide a good service from Canada and their goal was to have many more Independent Reps servicing their saddles. If I knew then what I know now…. but that is not all.
The first time Jochen came to our farm to do saddle fit evaluations, it was a very cold January 10, 2010. I remember it well, it was 2 degrees.  I did the first appointment with my mare Fancy. It was a big day, our friends were here, many of my students, my Husband even stayed almost all day. I was learning so much and I was so grateful to Jochen for opening my eyes to the importance of saddle fit. When Jochen recommended a saddle for us, I didn't even hesitate as he ordered it to be built special for me. The saddles are wonderful and have many options so that they can be just right for every individual. It wasn't until that saddle needed to be returned to Canada for repair last year, that I found out that the saddle I was sold was not built especially for me. I know it wasn't built for me because it was built 2 years before he met me. He sold me a saddle that was 2 years old and let me believe that it was brand new and built for me. I was not a Schleese Rep back then and didn't know that the serial number on a Schleese has the birthdate as the last 4 digits.

Last but certainly not least, I could not be a part of Schleese copying the Specialized Saddles patented 3-D fitting system and producing the Schleese Devin Western Saddle. It may be the way big business is or isn't but to me it is just not right and I don't want to be a part of it. I am still a fan of the Schleese saddle and the adaptable tree, it is a wonderful product, I am just not a fan of the way Schleese does business so I am no longer involved.

I cannot put into words how sorry I am for everyone's frustration in getting service for their Schleese saddles since I left. I never would have decided to play the game if I knew all my friends were going to be the losers. My goal is always warm and fuzzies for everyone. All I can think of is sometimes something bad has to happen so something good can happen. We just have to figure out what the good is for each of us. For me it is time to do what I really love, teach. Now besides moving, my focus is on teaching others how to evaluate and adjust Specialized and TW Saddles.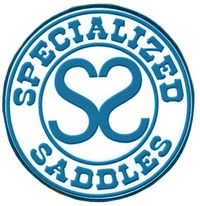 All my friends that have purchased Specialized and TW Saddles in MD, VA & PA are in good hands. Wendy, Karen and Dawn have studied saddle fit, practiced and been tested on the Specialized 3-D fit system and most importantly, they share my passion to help the horses. Specialized Saddles has supported my desires to recruit local Reps to service your saddles so that what has happened to the Schleese people never happens to you. In fact, they supported me so much that they asked me to recruit and train Reps in other areas as well. I am really looking forward to finally getting moved and getting back to work.
As always, thank you for reading my enewsletter. Next month, I promise less drama more educational.
TTYS & God Bless,
Terry
Terry Peiper
Fit Right Saddle Solutions  

Specialized & TW Saddlery, Thin LIne and Christ Authorized Retailer  

"Spreading the word about proper saddle fit and how it affects our horse's behavior, performance and ultimately the health of horse and rider."  Terry Peiper