May 2014

 After 20 years of marriage, Larry & I have decided to have another baby. Horse baby of course, so we bred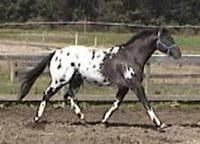 Fancy to Waps Milennium.    A colored Appaloosa colt just like his Daddy is expected March 15, 2015.  
Classical Training
 I know this is a repeat but I believe it is worth repeating.    The "rules of classical horsemanship can never be broken."  George Morris

  Why? "Because the classical training methods and guidelines are time proven to protect the horse from injury by building him up mentally and physically."   Terry Peiper
 A properly trained obedient happy horse will last a long time. Note: A long time is closer to 20 years then 2 or 3. Developing a horse takes time, actually it takes a lot of time. A little bit every day or every other day, week 
after week, month after month.  It doesn't matter what type of saddle you ride in the basics are all the same. 
  In 2007, Stacey Westfall won the Road to the Horse, the colt breaking contest. She kept the horse she 
used to win the contest. An article was published the following year and in it she says "After six months of hard work, the gelding is on his way to becoming a finished riding horse." She won the contest! Then she took him home and worked him for another 6 months. She is obviously a very good professional trainer.  She won the contest as well as the Freestyle Reining she does without a saddle or a bridle and she 
says he's "on his way."

  My point is it doesn't happen over night, what Stacey can do in 6 months would 
probably take most of us a year & a half because of work, weather and real life stuff. 
My advice, follow the rules and take your time. If you follow the rules of classical horsemanship, 
it will work out. If you don't know the rules, ask for help.
Saddle Fitting Tip

  
Watch your horse on the lunge line.  Look closely at the length of his stride and the placement of his feet.  Is he tracking up with his back feet to the front feet?  If not, how close are the back feet prints to the front.   Is he over tracking?  Are his steps even on both sides, or is he off?  Is he lame? Does he have trouble bending one way or another?  Does he pick up both leads?  Then put your saddle on and do the same gaits and compare.    
  We see a lot of saddles restricting at the shoulders either by being too tight and pinching or because the saddle tree angle does not match the shoulder angle.   The restriction of the shoulder will usually show up when you put the horse on the lunge with the saddle on and only gets worse when you add a rider's weight. 
  This Dr. Joanna Robson DVM demonstrating how to check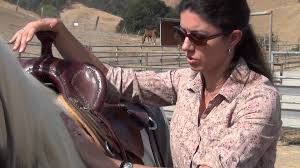 to see if your tree angle matches your horse's shoulder angle.  If the angle does not match, the shoulder will try to "kick" the saddle out of the way with every stride the horse takes.  Through time this kicking back and forth can cause girth sores, broken shoulder cartilage, white spots, muscle atrophy, spinal ligament damage, tripping and lameness like navicular.  
Check out Dr. Robson's videos
SADDLE FIT EVALUATIONS
  To schedule an evaluation for your horse and saddle or to try one of our adjustable saddles, go to  
Evaluation & Fitting Registration Form.
  Saddle fit evaluations at our barn $99, your barn $149,  vet bills for saddle damage ????
Gettysburg Riding Club Saddle Fitting Evaluation Demonstration & Explanation
If you are wondering what an evaluation is all about or if you are just looking for some answers to your saddle fit questions, join us on 
May 29, this Thursday night at 6:30
 at Saw Horse Farm near Gettysburg.  I love to talk about saddles and it is all free.
  

Saddlefit 4 Life

 has several informative and educational videos on You Tube.  Check out the one my friends in Canada made with the red shoes.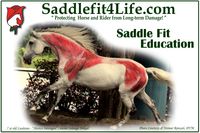 YOU TUBE RED SHOE VIDEO
 Happy beginning of summer everyone and thank you for reading our little e-newsletter. Thank you for passing it and my name on to your horse friends.  I sincerely appreciate each and every referral and opportunity to help another horse. Please, keep in touch.  Join us on Facebook or send an email sometime.  I love hearing how everyone is doing.  And thank you everyone for your testimonials.  I am so glad to be able to help. Happy riding!
TTYS & God Bless
Terry Peiper
FIT RIGHT SADDLE SOLUTIONS
Saddlefit 4 Life Certified Saddle Ergonomist
Authorized Schleese Saddlery, Thin Line, Specialized Saddles & TW Saddlery Representative
ARIA, ISRB & Richard Shrake Certified Instructor
Specializing in "Helping Horses with Their People" for over 30 years.
BUCK N HORSE HOLLOW
6 Buck Dr. Carlisle PA 17015
717-240-0723 cell 717-609-2822
www.FITRIGHTSADDLESOLUTIONS.com
Terry Peiper has been 
"Helping Horses With Their People"
 in south central PA for over 30 years as an accredited Richard Shrake Resistance Free ® Trainer/Instructor and certified American Riding Instructors Association (ARIA) Instructor. She has more than 45 years horse showing experience in several different disciplines ranging from hunt seat, halter, stock seat, barrel racing, dressage and side-saddle, as well as several years of fox hunting, hunter paces and open show judging experience. You could say she has 
been there and done that
.
Studying saddle ergonomics started out as just another way for Terry to help her students however, it quickly took over her life when she discovered that her own horse, Easy had a condition called kissing spine which was likely caused by many years of riding in poor fitting saddles. "I can't go back and undo what I have done but I can spread the word about proper saddle fit to prevent other horses from needless suffering" says Terry.
Recognizing the huge need for proper saddle fit, Terry joined the Saddlefit 4 Life professionals and started the FIT RIGHT SADDLE SOLUTIONS. She passionately pursues her mission to educate as many riders as possible of the importance of proper saddle fit, how it affects the horse's performance, behavior and ultimately horse and rider health through lectures and saddle fit evaluation/consultations in the south central Pennsylvania and northern Maryland area.